Wide Area Motion Imagery Made Affordable and Easier To Use
Today, most wide area motion imagery ("WAMI") platforms are designed for high end military applications. They generally require high resolution covering an extremely wide area and are very expensive. These limitations make current WAMI platforms prohibitive for use in civil applications such as surveillance and pattern of life monitoring. Civil applications, in which users are analyzing patterns such as traffic on airport tarmacs, roads, or harbors, typically require a large number of video cameras with HD resolution to cover smaller areas and store imagery for relatively shorter periods of time.
Made for OEM's
For OEMs creating WAMI systems, SoftServ Int. has developed the Cheetah Stare platform designed not only to drastically reduce the cost of image acquisition but also to tell a much more feature rich story about a scene than that told by the conventional video-based sensor technology today. To do this, the Cheetah system uses a combination of cost effective, high resolution FLIR cameras, advanced compression techniques, and the optimal combination of temporal and spatial image density.
How It Works
The Cheetah Stare system consists of three functions: data acquisition, data storage, and viewing. The acquisition function captures images throughout the day and extracts image related meta-data. Data is stored on a solid state drive which is removed and inserted into Stare Server. The Stare Server can maintain months' worth of data. The system's timing model and compression scheme lend themselves to efficient and seamless browsing of data in multiple windows using Stare Viewer. The Stare Viewer can display multiple regions of interest windows showing both the imagery and exploited information. High quality compression techniques allow for low latency multi-resolution viewing of data. The Cheetah platform offers both real time and forensic capabilities for data exploitation.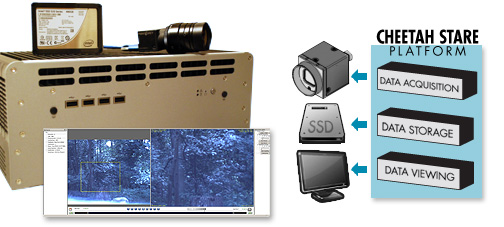 For most applications a frame rate of 4 frames per seconds is adequate for tracking. A lower frame rate allows higher quality images to be stored over much longer periods of time for a fixed storage size. The Cheetah Stare system trades off temporal density for spatial density and higher image quality. The acquired images are therefore temporally sparse but spatially dense; providing more details about the scene than by conventional video-based sensor technology. Stare Viewer is optimized to view multiple regions of interest with very low latency allowing the user to step rapidly from one instance in time to another. This is usually not the case with conventional video data.
Image Acquisition System
The acquisition system is a ruggedized box with no moving parts which can be programmed to capture images throughout the day. The acquisition system is integrated within the platform to provide pointing and positional information that become integrated in the image stream meta-data allowing the viewer to rapidly explore the scenery and look for activities of interest. The camera within the acquisition system needs to be housed in an appropriately customized gimbal system for the application.
The Right Camera
The Cheetah will be available in two versions; one for static platforms and another one for mobile platforms. For the static platform the 8.8 MP Flea3 USB3 with its IMX121 CMOS imager is being used. This Flea3 model, the FL3-U3-88S2, is ice cube size, high resolution, low noise, and at a competitive price point. For the mobile platform, the high resolution 9.1 MP Grasshopper3 USB3 with its ICX814 CCD is being used for its excellent sensitivity, high dynamic range, and also, a very competitive price point. Both cameras also do very well under rugged conditions and ability to provide power through the USB 3.1 connector.

What's next?
SoftServ is aiming to launch the Cheetah Stare by the end of 2013.