Upgrade to the latest on-camera FLIR Screen-EST™ Mode
MAKE YOUR CAMERA MORE EFFECTIVE FOR SKIN TEMPERATURE SCREENING
As companies put their hard-working thermal imaging cameras to the task of skin temperature screening, FLIR is hard at work developing new features to make the on-camera FLIR Screen-EST™ Mode faster and easier to use.
This latest version of our screening mode adds easy-to-follow on-screen graphics, optional remote operation with a Bluetooth® button, and even a fully automated mode that reduces screening time to just seconds.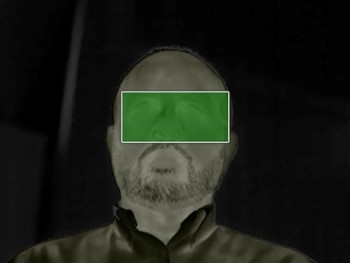 Button – Adds features such as detailed sample average prompts, screening subject positioning instructions, and a pass/fail display. Optional remote operation button controls screening and reference sampling.
Auto – Fully-automated mode guides the screening subject into position and initiates screening. Pass/fail graphics then direct the individual to continue on or report for additional screening. Auto mode is offered as a premium upgrade.
Availability
These latest improvements to the on-camera FLIR Screen-EST mode are compatible with the following FLIR thermal imaging camera models: E53, E75, E85, E95, T530, T540, T840, T860
FREE UPDATE
Add Button mode with this free firmware download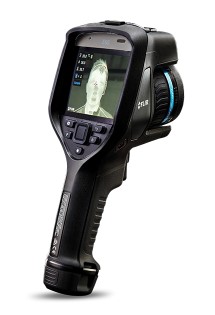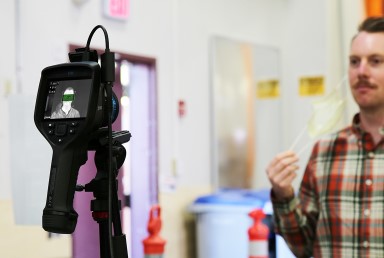 Premium Upgrade
Get FLIR Screen-EST Auto Mode* for $399 USD/$530 CAD
FLIR Remote Operation Button
Initiate screening or record reference samples with this Bluetooth-enabled button.
Also compatible with manual screening as a remote alternative to the P button.
$45 USD/$60 CAD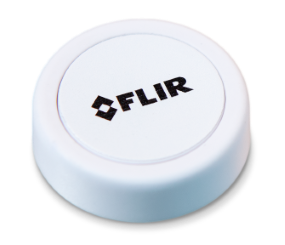 Upgrading your thermal camera: How it works
Upon purchase of a premium upgrade, you will receive a confirmation email with instructions on how to receive and install the firmware. You will be asked to provide your camera's serial number and the version number for the current camera firmware.
If you are unable to or if you would prefer not to perform the upgrade yourself, FLIR Service will provide a Return Material Authorization (RMA) so you can send the camera to your local FLIR Service Center. Expected turnaround time is 48 hours from receipt of your camera.
*The premium upgrade to FLIR Screen-EST Auto Mode includes Button Mode(remote operation button sold separately). It is available through FLIR.com, through a certified FLIR distributor, or from your FLIR sales representative.
Disclaimer for Products Sold Under FDA Enforcement Guidance
Product is not FDA cleared or approved. Product is for triage body temperature measurements only during the duration of the COVID-19 public health emergency.
Thermal measurements should not be solely or primarily relied upon to diagnose or exclude a diagnosis of COVID-19, or any other disease.
Elevated body temperature should be confirmed with secondary evaluation methods.
May only measure one temperature at a time.
Visible thermal patterns are only intended for locating points from which to extract thermal measurement.