FLIR Enhances Raymarine LightHouse II OS with Powerful New Features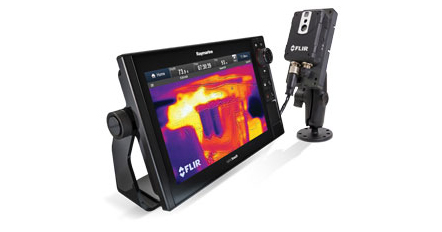 FLIR Systems, Inc. announced the release of the latest upgrade to its acclaimed LightHouse II operating system for Raymarine multifunction displays (MFDs). Underscoring FLIR's commitment to enhance the boating experience through innovation, LightHouse II Release 15 gives captains the ability to monitor their engine room using the new FLIR AX8 marine thermal camera system, improves collision avoidance with completely new graphical representations of AIS targets, and now supports direct software updates over Wi-Fi to keep Raymarine users up-to-date with the latest technology.
"We are excited to be adding these powerful new capabilities to our LightHouse II operating system," said Grégoire Outters, Vice President and General Manager of FLIR's Maritime segment. "Release 15 improves our customer's situational awareness, lets them harness the power of thermal imaging, and makes downloading and installing future updates and enhancements incredibly simple."
FLIR AX8 Thermal Engine Room Monitoring
Boaters can gain an entirely new view of their vessel's mechanical systems with the FLIR AX8 marine thermal monitoring system. Combining thermal and visible cameras in a small, affordable package, the AX8 integrates with Raymarine MFDs to keep a watchful eye on such critical equipment as engines, exhaust manifolds, and shaft bearings. AX8 enables captains to spot problems before they lead to breakdowns and potentially costly repairs. For added safety, the AX8 features programmable alarms for detecting temperature anomalies that can indicate potential fire, water leaks, or damaged hoses. The AX8 also features FLIR's exclusive MSX® technology, which adds edges, text, and other details of visible imagery to the thermal imagery, allowing boaters to easily interpret what they are looking at.
New Collision Avoidance Tools
With the growth of AIS target tracking, keeping track of multiple AIS targets in crowded waterways can be a challenge even for the most experienced captains. With LightHouse Collision Avoidance tools, both expert and novice captains can now monitor potential dangerous crossing situations with easy-to-interpret on screen graphics, called target interception zones. These zones can also help commercial and first responder vessels track and rendezvous with designated AIS targets. In addition, the latest LightHouse II version brings improved AIS target icons and user interface improvements.
Over-the-Air Software Updates
Boaters can now upgrade Raymarine LightHouse II MFDs and connected peripherals by downloading the latest upgrades directly from Raymarine using Wi-Fi. LightHouse II also can deliver software updates to Raymarine autopilots, sonars, instruments, and radars, making it easier than ever to keep up-to-date with the latest FLIR and Raymarine technology.
LightHouse II Release 15 is available in the form of a free download on raymarine.com. To learn more about Raymarine LightHouse II visit www.flir.com/marine.