FLIR's M618 Maritime Thermal Imaging Camera Wins NMEA 2016 Product of Excellence Award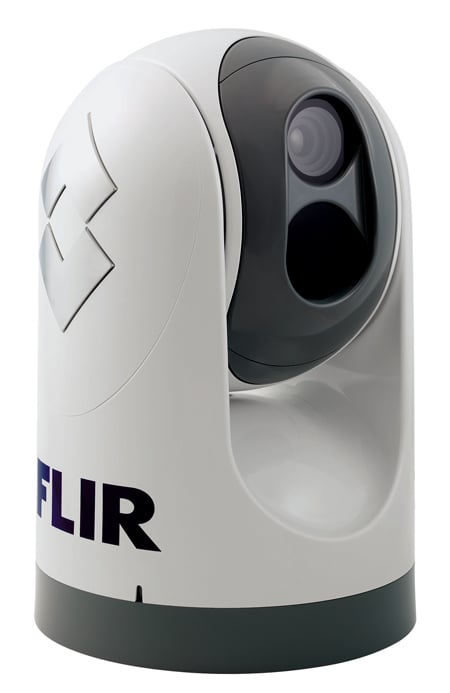 The FLIR Maritime M618CS, the company's most advanced member in its industry-leading line of M-Series thermal night vision systems, captured the 2016 Product of Excellence Award in the Marine Cameras category at the recent National Marine Electronics Association (NMEA) convention held in Naples, Florida. This marks the second consecutive year that FLIR's maritime thermal imaging cameras have taken this category award, as FLIR saw its MD625 thermal imaging camera win in 2015.
The M618CS has a long range thermal imaging camera, plus a 10x zoom color camera and gyro stabilization, making it the ideal camera for coast guard and first responder applications. Yacht owners who prefer long distance cruising can also take advantage of the M618CS with the ability to detect vessels over 2 miles away. The FLIR M618CS sets the bar for the M-Series line of thermal cameras with enhanced features, including:
Gyro-stabilization for steady imagery in the roughest seas
High resolution (640x480) thermal night visions camera with 2x and 4x e-zoom to see in total darkness, as well as through smoke, haze, light fog and solar glare
A color camera with 10x e-zoom
Extended range performance to detect a small vessel from over 2 miles away
Rugged and waterproof design provide a 360° pan and +/-90° tilt field of view
Standard video format and Ethernet connectivity for integration with multi-function navigation displays
We're honored to win this award and look forward to going for a three-peat in 2017.
For additional information on the FLIR M618CS, or to see a demonstration of this revolutionary system, visit www.flir.com/maritime