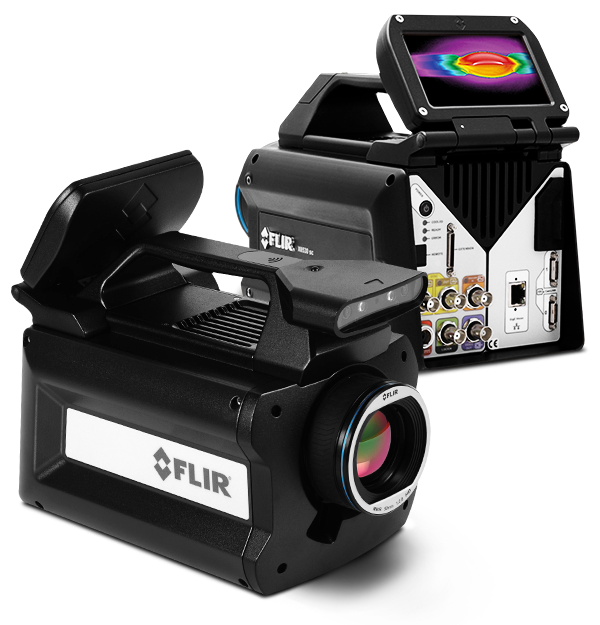 Discontinued
Support Center
FLIR X6580sc
For Support
Please call 1-800-GO-INFRA (464-6372) or 1-603-324-7600 or submit a ticket.
For Service
Call 1-866-354-7911 or submit RMA.
Overview:

Trouble Shooting
Some instability issues related to a memory leak were found on the X8400sc and X6500sc series and can be addressed by updating the firmware version of these cameras.
Read the Story

Technical Guidance
Are cameras such as the X6900SC / X6800SC / X8500SC fully GeniCam compliantl?Are there any restrictions (maximum framerate, superframing, preset sequencing) in doing so, or is it full control?
Learn more

Specifications
Overview
Detector Type

Indium Antimonide (InSb)
Dynamic Range

14-bit , 16 bits with DRX
Integration Time

500 ns to full frame rate, with auto exposure
Mounting

UNC 1/4"-20 + 3×M5 threads
Power

24 VDC
Size [L x W x H ] w/o Lens

280 × 150 × 180 mm
Spectral Range

1.5 – 5.1 µm
Weight [without lens]

5.05 kg
Well Capacity

6.5 M electrons
Connections & Communications
Synchronization Modes

IRIG-B; Sync In, Trigger In
Environmental
Operating Temperature Range

-20°C to 50°C
Optional Temperature Range

Up to 3,000°C From -20°C
Shock & Vibration

Operational 15G, IEC 68-2-29 / operational 2G, IEC 68-2-26
Standard Temperature Range

5°C to 300°C
Imaging & Optical
Analog Palettes

Selectable 8-bit
Available Lenses

NA
Camera f-number

f/3.0
Close-up Lenses/Microscopes

NA
Detector Pitch

15 µm
Digital Data Streaming

Simultaneous Gigabit Ethernet and Camera Link Base / Camera Link Medium
Filtering

4-position motorized, with drift compensation and automatic identification
Focus

USL mechanism or manual
Frame Rate

355 Hz: 640 x 512 Up to 4500 Hz: 320 x 8
HD Video

DVI 1080p
Image Time Stamp

Internal IRIG-B decoder clock / TSPI accurate time stamp
Operability

>99.5%
Readout

Snapshot Digital (X8400sc/X6580sc) - Snapshot Analog (X6550sc/X6540sc/X6530sc)
Readout Modes

Asynchronous Integrate While Read; Asynchronous Integrate Then Read
Resolution

640 x 512
Sensor Cooling

Closed cycle rotary
Subwindow Modes

User-defined
Display Overlay

Temperature measurement & scale
Image Analysis

On-camera temperature analysis
Motorized Focus Mechanism

Yes
On Camera Display

Detachable touchscreen LCD display (800 × 480)
Measurement & Analysis
Accuracy

±1°C or ±1% of Reading
Calibration

Custom calibration on request
NETD

<25 mK (18 mK typical)
Automatic Gain Control

Manual, Linear, ROI