Thermal Imaging to Advance Reliability in Self-Driving Cars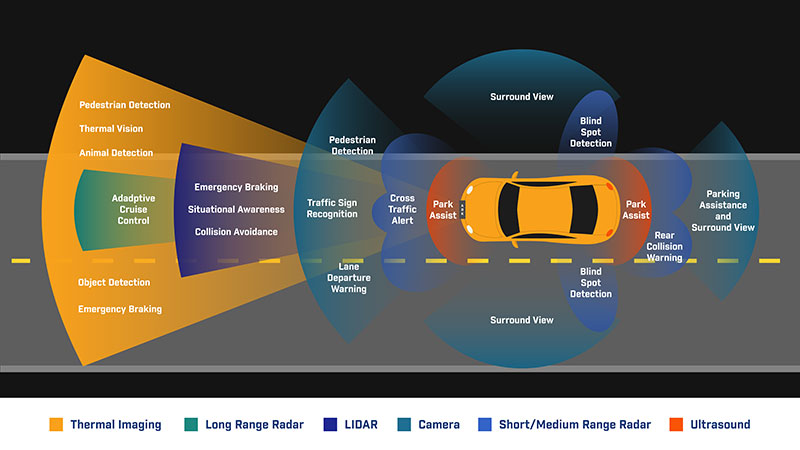 Graphic by Frank Pennisi, President of Industrial Business Unit
Self-Driving Cars and Reliability
Around the world, more than a million people are killed – and another 30-50 million injured – every year in traffic-related accidents. The loss to friends, family, and communities is staggering; and it doesn't begin to address the economic losses that go hand-in-hand with the human toll. Given that 90-95% of these tragedies can be traced back to human error, the potential benefits of autonomous and self-driving cars are undeniable. Today, I'm pleased to announce a new high-resolution Thermal Vision Automotive Development Kit from FLIR that we think can make a difference as the auto industry races toward a future that will be heavily reliant on self-driving cars.
Today's Technology
Current autonomous and self-driving solutions use a variety of sensors to gather information about the car's immediate surroundings. But they all have shortcomings that can be resolved when used in conjunction with thermal imaging. As the auto industry's only automotive-qualified, passive infrared sensor currently in production, FLIR® sensors are on numerous vehicles, including those made by General Motors, Peugeot, Mercedes, Audi, and BMW, and as an aftermarket system. An ideal sensor technology for detecting pedestrians, animals, and other vehicles, thermal sensors can see at up to four times the distance of typical headlights. Thermal imaging helps drivers and future autonomous or self-driving vehicles see in challenging environments such as darkness, sun glare, fog, smoke, and haze.
The Solution
FLIR's new, high-resolution Thermal Vision Automotive Development Kit (ADK™), features our high-performance FLIR Boson™ thermal camera and brings unique capabilities to automakers, tier-one automotive parts suppliers, and innovators of advanced driver assistance systems (ADAS). It allows developers to easily add an affordable, long-range thermal camera to their ADAS development vehicles that will help advance reliability and redundancy required for self-driving cars.
The latest FLIR ADK is compatible with NVIDIA DRIVE automotive platform's developer ecosystem. The ADK features the high-resolution FLIR Boson, comes equipped with an Intel® Movidius™ Myriad™ 2 Vision Processing Unit, and is FLIR's only thermal camera module to incorporate a sophisticated, low-power multi-core vision processor in the compact yet rugged package required for automotive use.
As the world move towards self-driving cars, our ADK will enable automakers to run the critical new image and data analytics that will help the auto industry advance both the reliability and redundancy needed for self-driving cars to be an everyday, safe solution for the millions of people around the world.
To learn more about thermal imaging and its potential in self-driving vehicles, read this paper.
To learn more about the new high-resolution FLIR ADK, visit flir.com/adk.