United VMS Cloud Features

Smart Vehicle Search™
Smart Vehicle Search™ (SVS) allows video surveillance control room operators to automate the process of searching for specific vehicles across hours of video footage and receive instantaneous results, saving tens of hours of manual and exhaustive forensic work.
SVS is offered as an enhancement to FLIR United VMS, allowing the ability to query for recorded video footage using license plate numbers captured by security cameras managed by the VMS. With SVS, any IP camera can become an LPR sensor by utilizing Neural Networks running on the FLIR Cloud that are trained to efficiently detect and recognize license plate numbers within high volumes of video.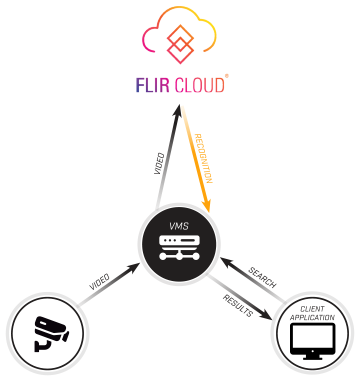 With SVS, the operator can search for specific vehicles within the VMS video archives and retrieve the associated footage, based on license plate data.
SVS is an ideal solution for forensic purposes, allowing investigators and control room operators to search for vehicles using full or partial license plate numbers and immediately retrieve matching results that exist in the recorded video.
Health Monitoring Tool
The FLIR Health Monitoring Tool gives detailed information on surveillance system status from anywhere in real-time. Enjoy more timely service than ever before.
Now you can…be proactive in managing your customer installations by accessing their system's health status remotely and in real-time.
With Cloud-based monitoring, detailed information on a surveillance system's configuration and status is collected. Customers can log-in to view this data to determine system health from any location. Integrators have access to all of their deployed systems, enabling them to monitor and maximize operations effectively and proactively. FLIR Cloud Services can also notify integrators of problems or potential problems – in order to take action before the customer is even aware of an issue.
Cloud Services are available to SSA customers. Please contact services@FLIR.com for further information.
Features & Benefits
Key capabilities:
System status is easily visible to integrators, customers and FLIR support team
Easy access to information from any location through Cloud hosting
When system health thresholds are crossed, the Cloud alerts the integrator before a problem occurs
Directory backup is uploaded daily to the Cloud
Fully secured with SSL certificate
Only authenticated users can view information
System owner determines who can monitor his/her system
Intuitive and easy user experience for monitoring health status of the system
Automatic installation upon system upgrade
Easy installation and administration

Benefits:
Improved level of service - Customers and integrators can view the status of their systems, servers and cameras at any time to proactively take action in case of an issue
Increased loyalty of end-users through providing visibility, reliability and proactive service
Easy access from anywhere via the web. No further setup is required once installed on the system side
Cost savings – saves on-site visits and hours of troubleshooting
Service Support Agreement now features online access to monitor and manage the health of the systems

Monitoring:
Monitors Directory server, Archivers, Gateway server, Transcoders and EDB servers for: database status, storage, accessibility and more
Monitors edge devices and cameras for accessibility, recording status, firmware and more
Video content is secured at your site and not uploadable