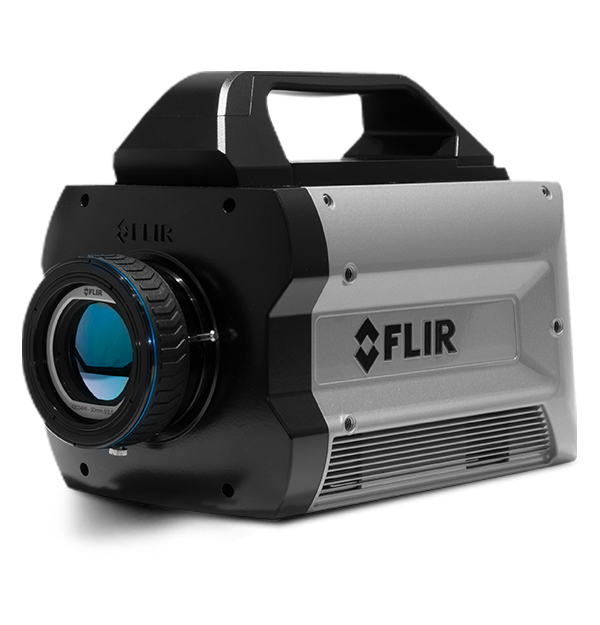 Support Center
FLIR X8500sc MWIR
For Support
Please call 1-800-GO-INFRA (464-6372) or 1-603-324-7600 or submit a ticket.
For Service
Call 1-866-354-7911 or submit RMA.
Overview:

Technical Guidance
Are cameras such as the X6900SC / X6800SC / X8500SC fully GeniCam compliantl?Are there any restrictions (maximum framerate, superframing, preset sequencing) in doing so, or is it full control?
Learn more


Compatibility
What cameras are compatible with the BHP SDK?
Read the Story
Specifications
Overview
Detector Type

FLIR indium antimonide (InSb)
Dynamic Range

14-bit
Mounting

2 x 1/4-20 tapped holes 1 x 3/8-16 taped holes 4 x 10-24 tapped holes Side: 3x 1/4-20 tapped holes
Spectral Range

3.0 – 5.0 µm /1.5 – 5.0 µm
Well Capacity

3 M electrons/11.5 M electrons
Size [L x W x H ] w/o Lens Handle

249 x 158 x 147 mm (9.8 x 6.2 x 5.8 in.)
Weight (without lens & with handle)

6.35 kg (14 lbs)
Connections & Communications
Synchronization Modes

Genlock, Sync-in, Sync-out
Environmental
Operating Temperature Range

-20°C to 50°C (-4°F to 122°F)
Optional Temperature Range

Up to 3000°C (5,432°F)
Standard Temperature Range

-20°C to 350°C (-4°F to 662°F)
Imaging & Optical
Available Lenses

3-5 µm: 17 mm, 25 mm, 50 mm, 100 mm, 200 mm Broadband (1.5-5 µm): 25 mm, 50 mm, 100 mm (Uses FLIR HDC Optics)
Camera f-number

f/2.5 or f/4.0
Close-up Lenses/Microscopes

1x, 4x (3–5 µm, requires f/4.1 camera)
Detector Pitch

12 µm
Digital Zoom

1x, 4x, 4:3
Filtering

Filter wheel, standard 1-inch filters (2 filters/wheel position)
Focus

Manual
Frame Rate [Full Window]

Programmable; 0.0015 Hz to 180 Hz
Image Time Stamp

Internal IRIG-B decoder clock TSPI accurate time stamp
Minimum Integration Time

270 ns
Operability

> 99.5% (> 99.95% typical)
Palette

Selectable 8-bit
Radiometric Data Streaming

Simultaneous Gigabit Ethernet (GigE Vision®), Camera Link, CoaXPress (CXP)
Readout

Snapshot
Readout Modes

Asynchronous integrate while read Asynchronous integrate then read
Resolution

1280 x 1024
Sensor Cooling

Closed cycle linear
Standard Video

HDMI, SDI, NTSC, PAL
Subwindow Modes

Flexible windowing down to 64 x 4 (steps of 32 columns, 4 rows)
Lens Interface

FLIR HDC (4-tab bayonet)
On Camera Image Storage

RAM (volatile): 16 GB, up to 6500 frames, full-frame SSD (non-volatile): >4 TB
Overlay

Customizable (IRIG-B, Date, Integration time, Internal temp, Frame rate, Sync mode, Cooler hours)
Pixel Clock

355 MHz
Video Modes

HDMI/HD-SDI: 720p/25/29.9/50/59.9 Hz, 1080p/25/29.9 Hz Composite: NTSC, PAL
Measurement & Analysis
Accuracy

±2°C or ±2% of reading
NETD

<20 mK
Automatic Gain Control

Manual, Linear, Plateau equalization, ROI, DDE
Thermal Imaging
Detector Resolution

1280 x 1024