2021 App Challenge Winners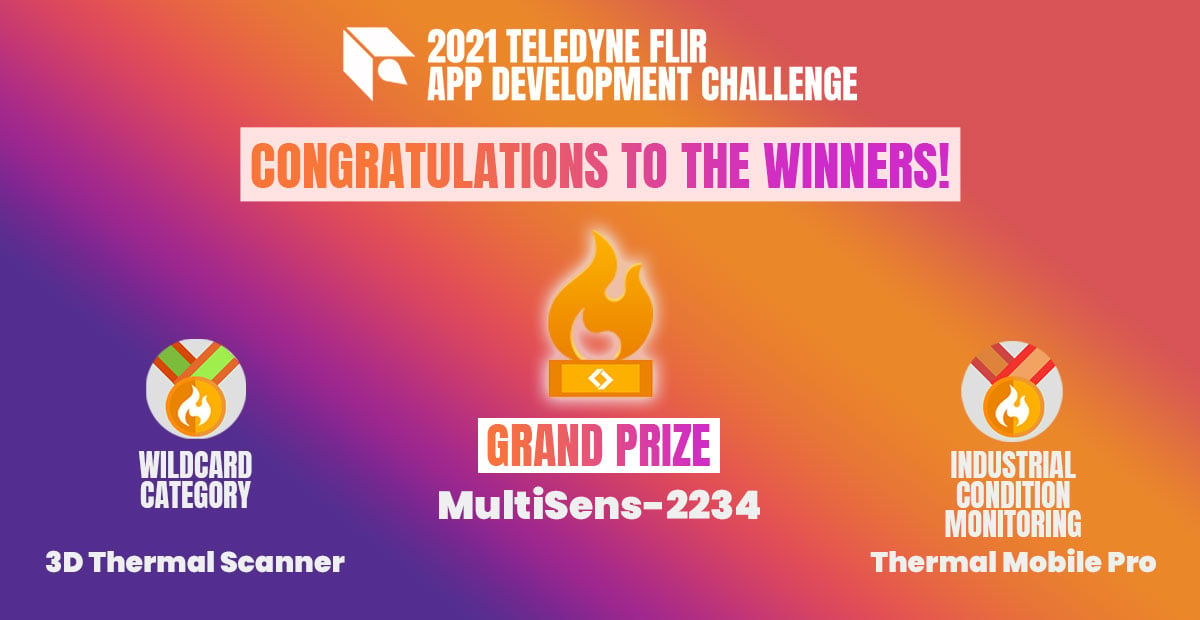 After months of hard work, the 2021 Teledyne FLIR App Development Challenge has concluded and we are proud to announce the winners. We thank all the teams that submitted ideas which made it difficult to choose finalists and winners. Special thanks to the organizer of the event KreativDistrikt for their dedication and professionalism.

Grand Prize Winner
MultiSens-2234 by SensOS is a route-based visual inspection and asset health cloud-based platform that collects data using available machine condition monitoring techniques. In the case of thermal image analysis, the system stores a baseline outline called Thermal Image Frame Match© that can be used as a visual reference while capturing a new thermal image, guaranteeing repeatability of measured parameters.
Condition Monitoring Category Winner
Thermal Mobile Pro is designed for quantitative analysis of thermal data. Using measurement tools (spots, areas, Delta-T) and parameters data such as Emmisivity and Reflected Temperature the app gives the ability to determine if the measurement should be done complying with the 5 to 1 ratio that is required in quantitative analysis.
Wildcard Category Winner
3D Thermal Scan uses the power of FLIR thermal imaging and the LiDAR sensor present in some phones to create a point cloud of the surrounding area. The result is a 3D thermal representation of spaces or objects of interest that change how we visualize and analyze information.

Did you miss the opportunity to participate this time? Don't worry. We will be running future app challenges. Send an email to info@kreativdistrikt.com to be notified of upcoming events.
For information about Teledyne FLIR's Mobile Developer Program and to bring your idea to life click here.
Sponsored by:

Powered by: