Mobile Developer Community Update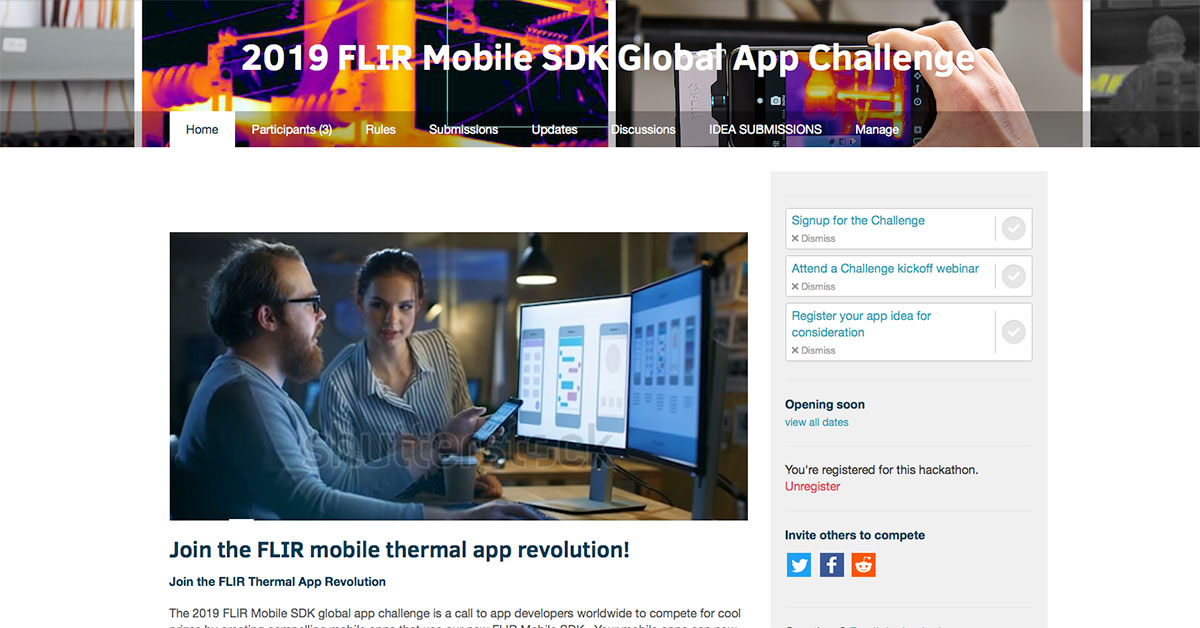 Hey mobile app developers,
A powerful new SDK for mobile app development, a completely new developer website with updated tools, and a global mobile app challenge in which you can win great prizes … does any of that sound interesting? Read on!
For starters, here's a sneak peek at a new video introducing the FLIR developer program and the all-new FLIR Mobile SDK. Beta SDK testing has been super helpful and is still going on, and thanks to the beta team we've found some important bugs and are fixing them for the public SDK release – which is now targeted for September 2019. Why the excitement? Because being able to write a single mobile app that works with WiFi-enabled professional thermography cameras in addition to the FLIR ONE family and select FLIR moisture meters and FLIR multimeters lets you do some pretty cool things with apps!

Along with the new SDK you can expect a fully refreshed developer site and updated developer tools. In addition to the mobile developer resources, you'll also have access to resources for desktop, component, and cloud app development. We're updating tools like the developer's forum and training videos, we're expanding the certified developer program, and we're also adding a new equipment loaner program to help out with your final app testing work. Stay tuned at developer.flir.com – you'll see big changes in September.
I'll close today with an insider's heads up about our upcoming FLIR Mobile SDK global mobile app challenge. We're teaming up with KreativDistrikt to host an online hackathon for developers around the world, offering up some great prizes to kick start mobile app development on the new SDK. The top 10 ideas submitted will be chosen to compete for valuable prizes, getting special support and access to FLIR resources to help turn cool ideas into powerful mobile apps for release. I can't say more now, but tune back in here in early September and keep an eye out on DevPost for your chance to enter.
Happy developing!
Cal