Maximize Productivity and Verify Compliance with Extech Inspection Tools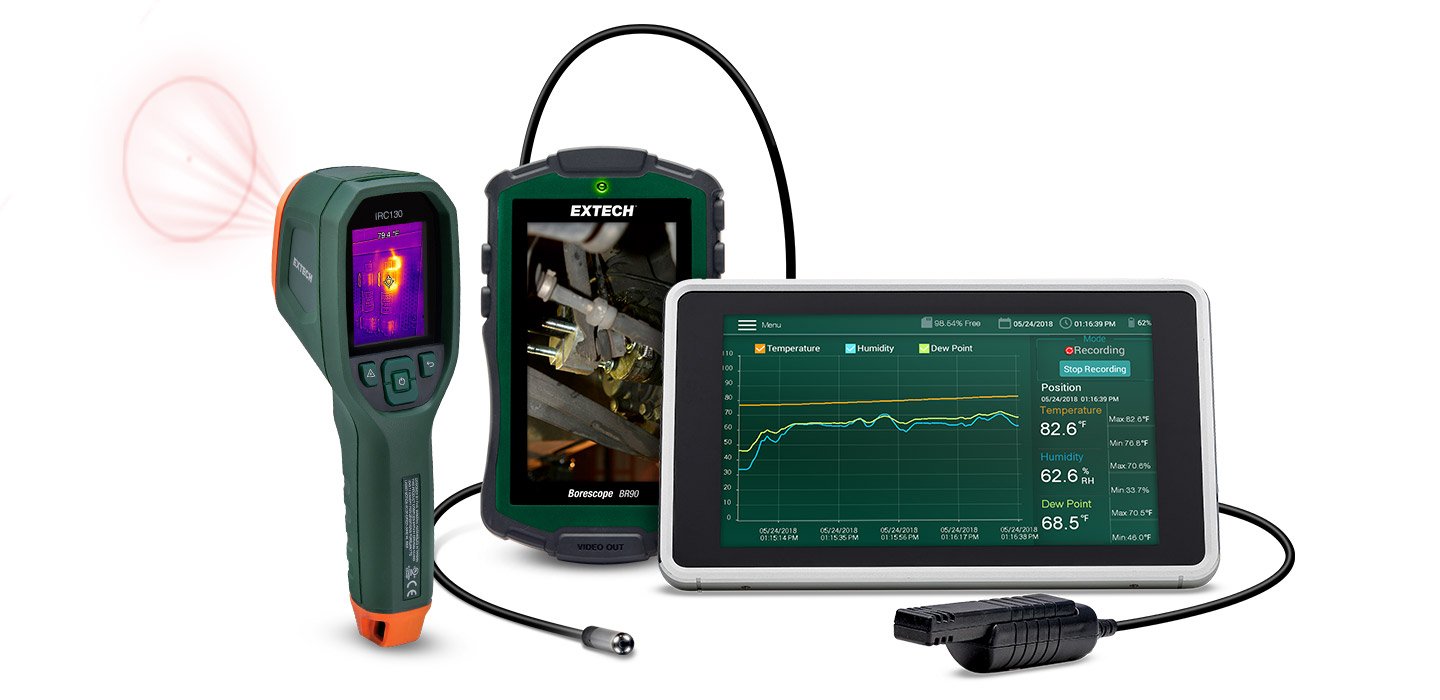 No matter how demanding your project requirements, Extech has the solution to help get the job done with our inspection equipment These are tough tools for tough budgets designed with the quality you've come to expect from Extech.
IRC130 – Thermal Imager IR Thermometer with MSX®
See more than spot temperatures with the all-purpose Extech IRC130! Featuring an 80 × 60 true thermal imager and unique coaxial laser, the IRC130 can help you avoid electrical and mechanical failures, locate water damage sources, find missing insulation or leaky air ducts, and troubleshoot automotive repairs. The patented MSX technology provides full context of problem areas by embossing visual details onto thermal images, providing added perspective to identify the exact location of hot or cold spots. Users can create reports with saved thermal and visual images to thoroughly document problems and repairs, and easily share them with customers.
RH550 – Humidity/Temperature Chart Recorder with Touch Screen
Simultaneously datalog and monitor relative humidity, temperature, and calculated dew point in real time on a large 7" color programmable touch screen. The Extech RH550 features live or user-scheduled recording time, programmable Min/Max alarm set points, and captures up to 20,000 data points in CSV format that can be transferred to a computer. A built-in stand is included for desktop use, as well as a bracket for wall-mounting. The RH550 also features a field-replaceable probe that can be attached to the monitor or on a 6 ft (1.8 m) cable. This recorder is useful in office buildings, conference rooms, labs, hospitals, cleanrooms, greenhouses, food storage facilities, and more.
CLT600 – Advanced Cable Locator and Tracer Kit
Designed for professionals who perform field troubleshooting, wiring diagnostics, and electrical installation verification in residential, commercial, and industrial buildings. The Extech CLT600 is an easy-to-use tool that helps professionals trace powered/unpowered wires and cables, pin-point location of breaks, and identify related fuses or breakers on panels. The CLT600 features non-contact voltage technology and a CATIII-450 V safety rating, enabling electricians, inspectors, service technicians, and general contractors to quickly measure AC/DC voltage up to 450 Volts to verify energized wires while avoiding direct contact with live wires.
Everything you need for an energy audit all in one kit! The MO290-EK allows you to monitor airflow, moisture levels, and provides inspection equipment to find energy loss. Purchasing this kit gives you the MO290 Pinless Moisture Psychrometer plus Infrared Thermometer, the AN200 CFM/CMM Mini Thermo-Anemometer plus Infrared Thermometer, the CO250 Portable Indoor Air Quality CO2 Meter/Datalogger, and the BR200 Video Borescope/Wireless Inspection Camera. All of these products can be kept secure and on the go wherever your inspections take you with the included heavy duty hard carrying case; giving you organization, safety, and portability.