What tools do you need on your benchtop?
The right test and measurement tools can make the difference between a dependable product, and costly recalls.
With FLIR's family of products for benchtop electrical measurement, your team can gather reliable data, catch hidden design flaws, and provide quality assurance. These tools offer the thermal accuracy, crisp thermal resolution, and tough reliability you need to help speed up testing and improve product design.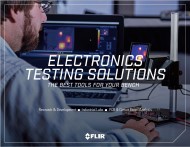 "Electronic Testing Solutions: The Best Tools for Your Bench" is FLIR's new guide to electronics testing across R&D, industrial design, and PCB quality assurance. Fill out the form to download this helpful brochure today!