Teledyne FLIR Donates SIRAS Drone to VMSC Emergency Medical Services in Commemoration of Late Teledyne Employee and First Responder Volunteer, David Bond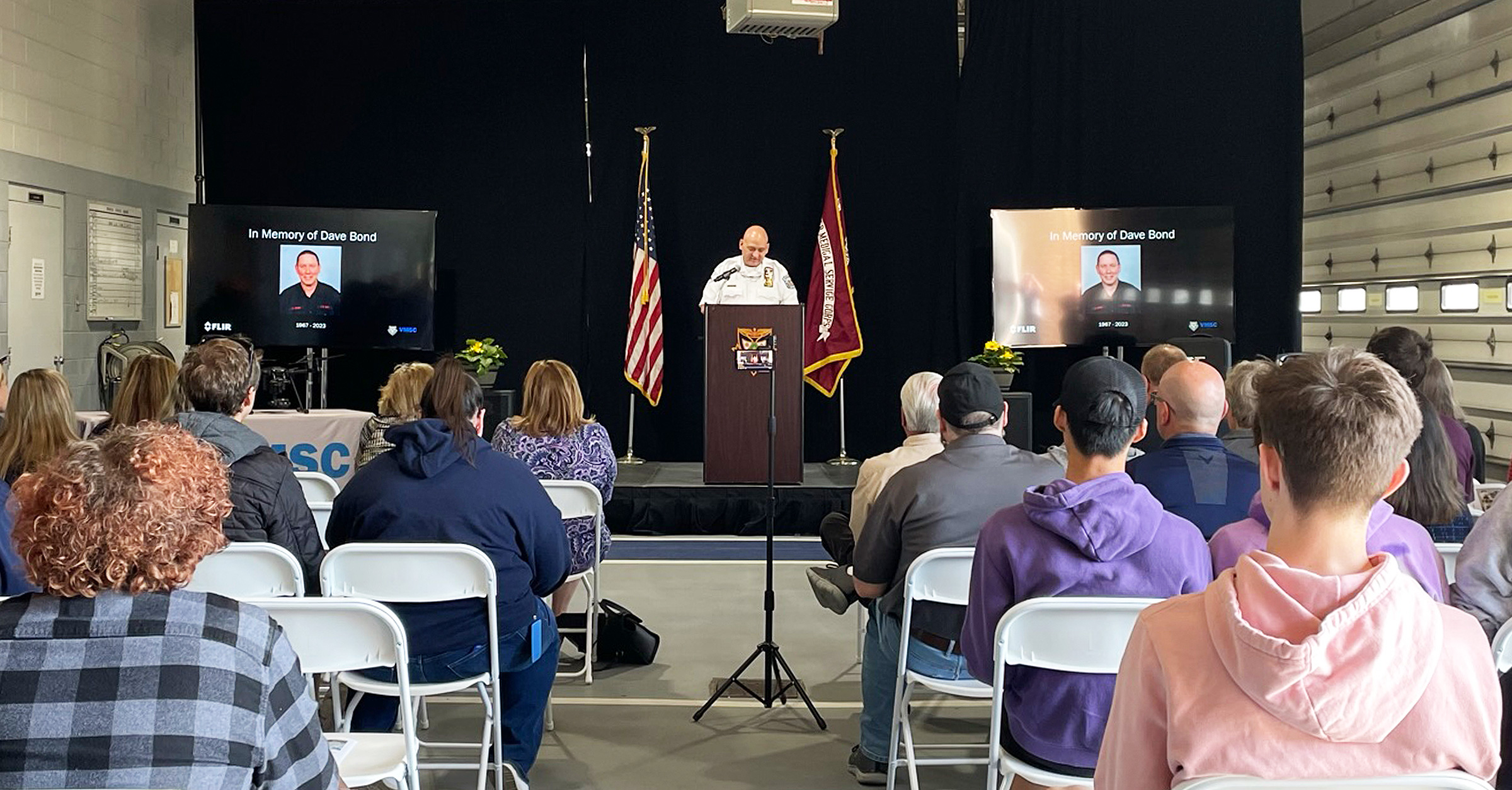 On April 20, Teledyne FLIR and VMSC Emergency Medical Services co-hosted an event at VMSC's headquarters in Landsdale, Pa., to honor the service, dedication, and memory of David Bond (1967-2023). To celebrate David and to carry on his legacy and dedication to his community, Teledyne FLIR donated a SIRAS drone to provide VMSC with greater capabilities for future K9 search and rescue (SAR) missions. For those who knew David professionally, he was a test manager at Teledyne Judson for 31 years, and for those who knew him outside of his day job, he was a dedicated volunteer for VMSC Emergency Medical Services and its SAR team.
"David dedicated his life to his community. He would go out of his way to help, he wouldn't just give you the shirt off his back, but continue to give it every day," said Shane Wheeler, CEO of VMSC. "Dave's untimely death really left a hole in our hearts here at VMSC, but it has also inspired us to carry on his legacy of service and compassion in this community."
The SIRAS is a fitting tribute to the life and work of David Bond who was always eager to embrace new technologies and ideas to improve the safety and well being of the Landsdale community, located a half hour northwest of Philadelphia.
"Dave and I spent hours discussing how he used thermal imaging on his search and rescue missions," said Ezra Merrill, senior marketing director, OEM, Teledyne FLIR. "We are here today because of Dave's vision for VMSC and his dedication to safeguarding the community."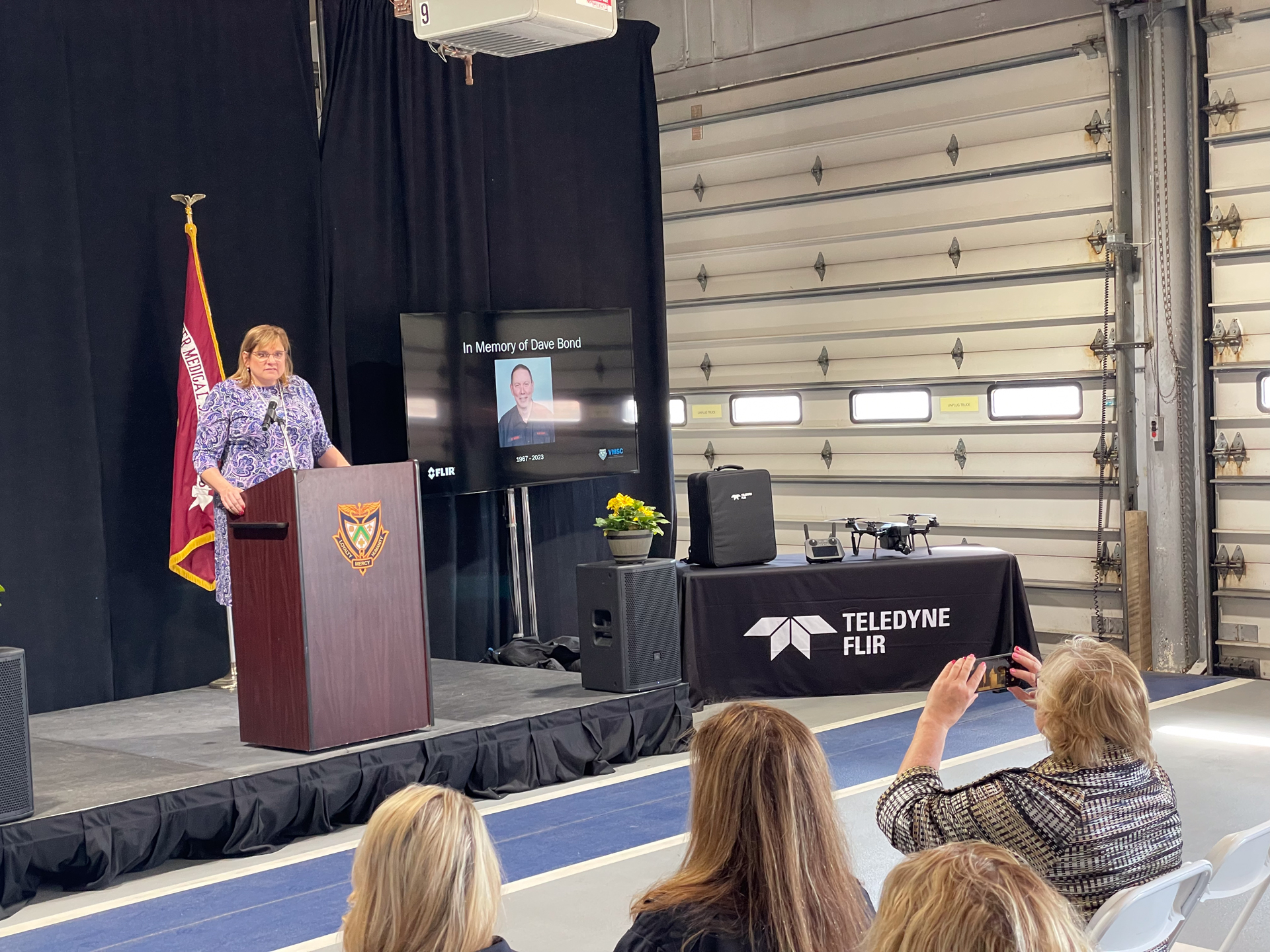 Eyes in the Sky to Save Lives
The SIRAS drone pairs a radiometric thermal and visible camera payload for best-in-class imagery to pinpoint critical details day or night, in thermal and visible light, in all types of weather and lighting conditions. Where seconds matter when locating missing persons, the drone has a startup time of only one minute and is geofence free so the pilot can take the drone when and where it needs to go to complete the mission. This drone will provide critical support for first responders to help save lives.
"Dave was a valued member of our team for the past 31 years. He knew and cared about everyone he worked with, and spread his joy everywhere he could. He was a dog lover and trainer, a volunteer, and SAR K9 handler who founded the drone team at VMSC," said Bob Hyland, vice president of operations at Teledyne Judson. "He was simply a wonderful person, and everyone who knew him was proud to know him. Today really brings together his excellent work for Teledyne and the community."
"David first worked with Teledyne FLIR two years ago to secure a Vue TZ20-R thermal camera payload for the existing drone airframe at VMSC, introducing a game-changing technology that gave the organization more capability for SAR missions at all hours," said Dave Boland, VMSC Board & K9 SAR team member, "He was proud to have a drone payload from the company he loved, and I imagine he would be overjoyed to improve the drone program's capabilities with the SIRAS drone, a program he was instrumental in founding."
The Teledyne FLIR, Teledyne Judson, and VMSC teams were joined by Pennsylvania State Senator Tracy Pennycuick, Rev. Dr. Deborah Darlington, and David's sister Melody Kragh, amongst dozens of other local agencies and community members who had been touched by the service and dedication of David Bond.