Determining revision of Texas Instruments PHY chip
Last Revision Date: 6/2/2014
This article describes how to visually identify the Texas Instruments 1394b PHY chip revision.
Due to issues with TI 1394b Physical layer chipsets earlier than revision D, it is important for customers to be able to determine the revision of the card that they are using. Below you will find an image of the card showing where to look on the card for the TI Physical layer chip.
The model number on the chip will be TSB81BA3 or TSB81BA3D as shown below.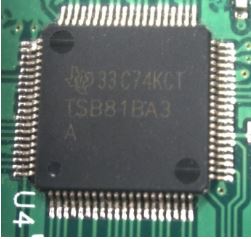 Non Revision D
Revision D