FLIR Griffin™ G510
Best-in-Class
Portable GC/MS
SAVER Program knowledge products provide information on equipment that falls under the categories listed in the DHS Authorized Equipment List (AEL), focusing primarily on two main questions for the responder community: "What equipment is available?" and "How does it perform?"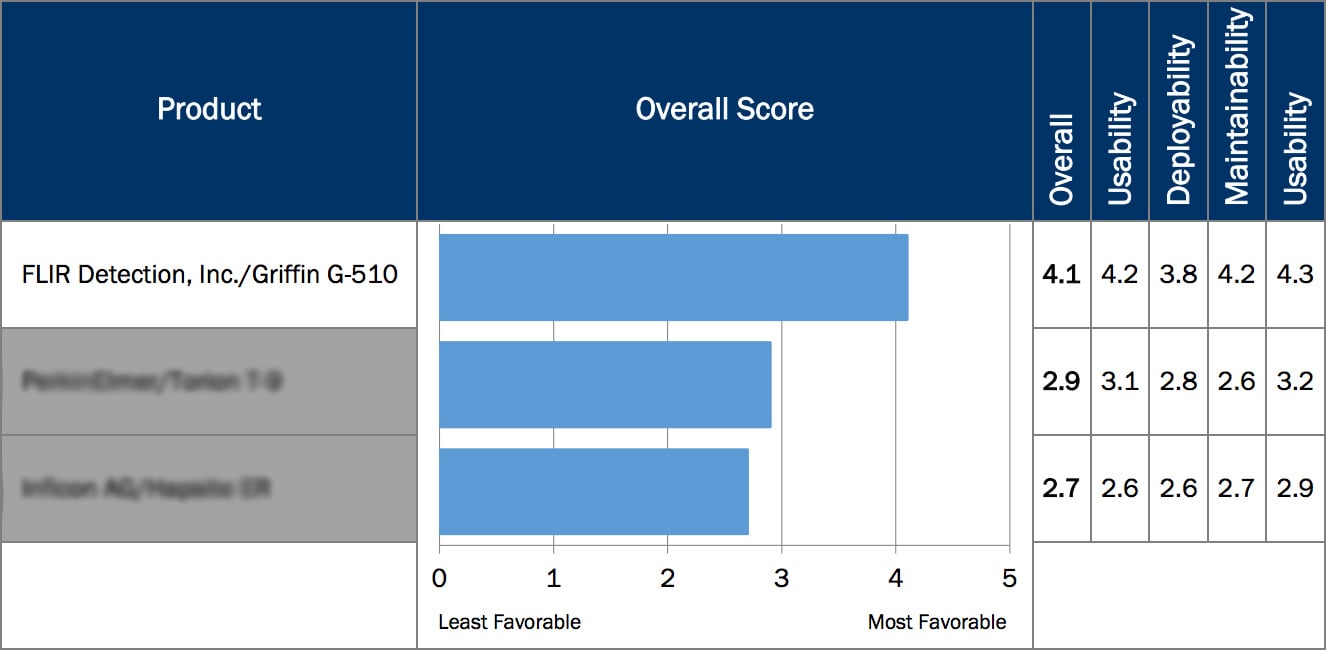 CAPABILITY
Quickly switch between the G510 sample introduction ports, which readily accept all sample types and provide the broadest threat detection capability.
USABILITY
The G510 is equipped with a configurable user interface and on-board touchscreen that displays user prompts for fast field-adoption after initial training.
MAINTAINABILITY
Lowest cost of ownership, remote troubleshooting, and onboard instructional videos help the G510 deliver best all-around customer experience from install to post-deployment support.
The Field Portable Gas Chromatograph Mass Spectrometer (GC/MS) Assessment Report was prepared and released February 2020 by the National Urban Security Technology Laboratory for the U.S. Department of Homeland Security, Science and Technology Directorate. The views and opinions of authors expressed herein do not necessarily reflect those of the U.S. Government. Reference herein to any specific commercial products, processes or services by trade name, trademark, manufacturer or otherwise does not necessarily constitute or imply its endorsement, recommendation or favoring by the U.S. Government.
The U.S. Department of Homeland Security (DHS) established the System Assessment and Validation for Emergency Responders (SAVER) Program to assist emergency responders making procurement decisions. Located within the Science and Technology Directorate (S&T) of DHS, the SAVER Program conducts objective assessments and validations on commercially available equipment and systems and develops knowledge products that provide relevant equipment information to the emergency responder community.
DID YOU KNOW?
The Griffin G510 portable GCMS delivers comprehensive, confirmatory results from a library of over 270,000 chemicals in minutes and satisfies the equipment requirements for Federal Emergency Management Agency (FEMA) Type 1 Hazardous Materials teams.