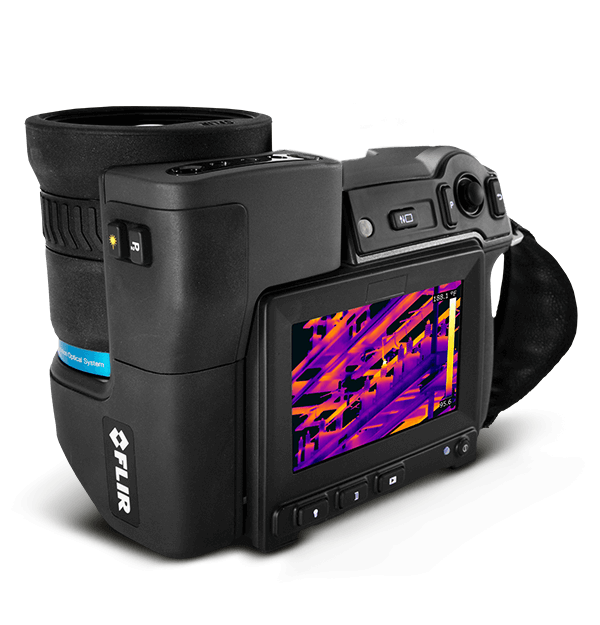 FLIR T1010
The FLIR T1010 is your entry to the world of outstanding thermal imaging performance. With up to 3.1 MP resolution (UltraMax®), superior thermal sensitivity, and FLIR's most advanced user interface, the T1010 is designed to streamline your workday, and make you the hero.
Learn More
Detect safety hazards and costly failures before they happen
Quickly monitor and troubleshoot mechanical equipment and electrical connections with accuracy and efficiency. Scan pumps, process valves, storage tanks, and motors, to ensure your equipment is immaculate, well-functioning, and profitable. Ensure proper installation of electrical wiring and equipment to prevent injury, costly power outages, and irreversible damage.
Avoid costly service interruptions with decisive thermal imaging
Take precaution in preventing sudden outages and loss of invaluable equipment with ongoing proactive inspections. Used as a core predictive maintenance tool for quick safety checks of energized equipment or intensive substation surveys, achieve invaluable diagnostics you can rely on.
Empowering you to "see" invisible gas leaks
FLIR optical gas imaging (OGI) cameras can help you detect methane, sulfur hexafluoride, and hundreds of other industrial gases quickly, accurately, and safely―without shutting down systems. With FLIR OGI cameras, you can scan broad sections of equipment rapidly and survey areas that are hard to reach with traditional contact measurement tools. OGI cameras can also detect leaks from a safe distance, displaying these invisible gases as clouds of smoke.
Avoid production stops with high-tech monitoring
Monitor high and low voltage installations, turbines, compressors, and other electrical, and mechanical equipment and identify potential problems before failure occurs. An anomaly can have serious implications on unmonitored processes. Ensure your equipment is working for you, not against you, with powerful inspection.