Featured Developer: RocketPlan Technologies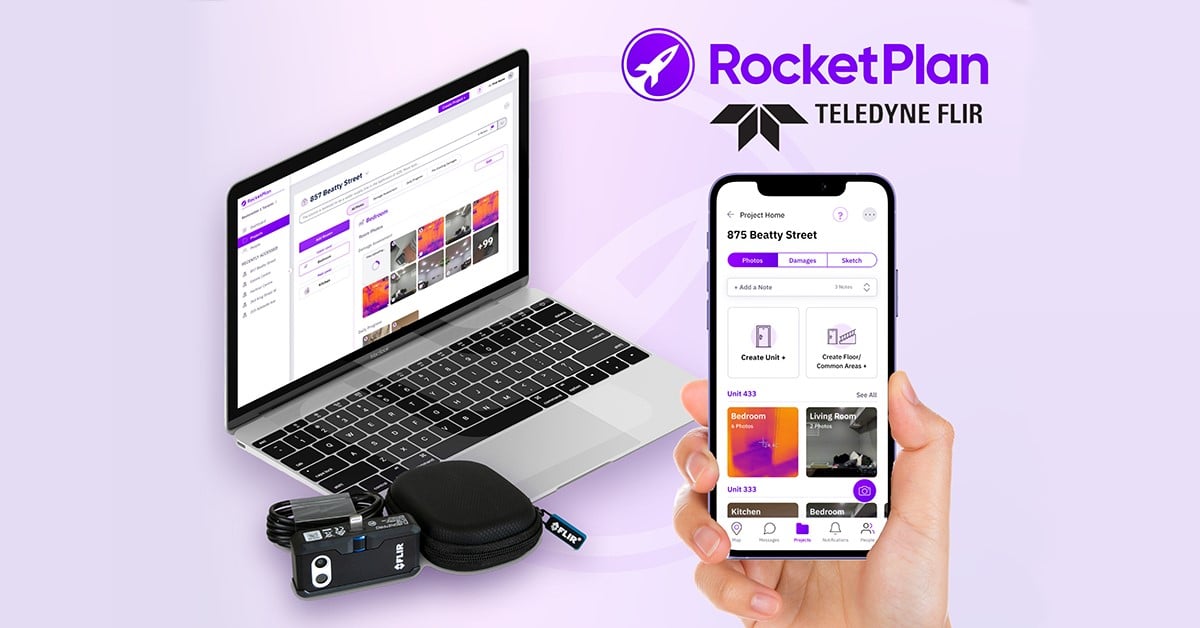 Background
RocketPlan is a MOBILE FIRST Business Operating System for Property Restoration Insurance Claims Professionals.
RocketPlan reduces Admin and Management labour by over 50% and enables field workers complete damage assessments and reporting in real time on site.
RocketPlan partnered with Teledyne FLIR and integrated direct import of IR scans, saving massive amounts of time during damage assessment and reporting and providing clarity to stakeholders involved in REAL TIME.
Q&A with the Developer
How did you get involved in developing with Thermal Imaging?
Teledyne FLIR Infrared cameras are the essential tool for scanning and documenting water damage for property restoration insurance claims.
Determining and documenting the extent of water damage is step one in the process of mitigation and restoration of the property. This usually becomes a bottleneck in the process as multiple stakeholders require this information. From restoration crews, estimators, insurance adjusters and insurance carriers to property owners and managers, resulting in inefficiencies, exaggerated costs and unnecessary delays.
RocketPlan's integration with Teledyne FLIR streamlines the process and provides significant value; reduced costs, shortened timelines and clarity to all stakeholders involved.
RocketPlan integration with Flir was the only way to help the industry solve this problem through innovation and collaboration.
Do you have any coding philosophies or techniques that are particularly helpful working with the FLIR Mobile SDK?
Our focus has always been MOBILE FIRST to enable field workers to complete their tasks in a far easier way, eliminating steps in the process through automation without extensive training or implementation.
FLIR Mobile SDK was built just for that, easy integration for developers and the best UX user experience in mind.
What's the biggest challenge you've found working with the FLIR Mobile SDK and how did you get around it?
The biggest challenge was deciding priorities of which information from the thermal image we should extract as there are so many functionalities available. We decided to base priorities on our users' feedback and tackled them in that order.
What key learning(s) would you share with new FLIR mobile app developers?
Start with user experience and listen to your users about what they value. Teledyne FLIR has an easy to implement SDK to provide the best UX.
How has developing with the FLIR Mobile SDK opened up new opportunities for you?
Teledyne FLIR cameras are the most commonly used devices in the industry. This integration allowed us to enable our customers to become significantly more efficient and provide better service to their clients, which generated more business for them and made us the leader in the industry.
Visit RocketPlan today for more info!