Pro Angler Profile: Captain Alonzo Sotillo
---
Everglades fishing guides Sotillo and Thompson up their angling game during precious days off with the power of Axiom Pro
Sotillo operates Tides Right Charters, and regularly opts to forego distractions like football, neighborhood parties and home improvement projects to keep his eye on the prize.
"I've been a professional guide for four years now," says the young Raymarine Pro Ambassador. "Days like today are the days I look forward to the most," he continues, referring to the chance to observe, study and learn from the Everglades and its fish while trading paying customers for the company of a good friend and mentor like Captain Andy Thompson.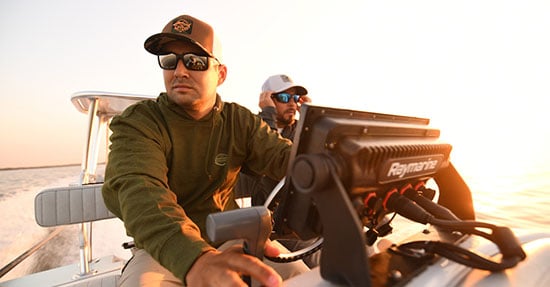 PASSION DEFINED
"A lot of people ask me if I really go fishing on my days off," says Thompson, a fellow Raymarine Pro who operates Salt Air Outfitters in the same waters of the Keys and the Everglades. "Heck yes I do," is his consistent answer. To Thompson, like Sotillo, every outing on the water represents an opportunity for extra knowledge. "To go exploring with buddies like Alonzo… it keeps the wheels turning and learning."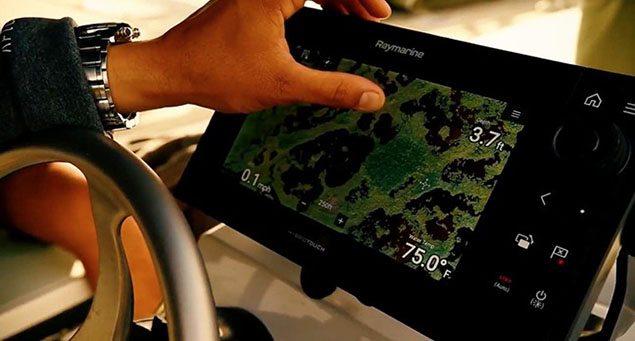 SOTILLO'S SECRET
Snook… Redfish... Tarpon. Catch one of each in a single day, and an angler has accomplished the storied Backwater Slam. Anglers come from all parts of the world to the beautiful and productive waters of Everglades National Park to do it.
In a classroom as complex as the Everglades' backcountry, navigational and fish-finding electronics can easily be considered the most critical of study aids. "I run the best equipment available," says Sotillo, "and bar none, one of the most important pieces of equipment I have is my Raymarine Axiom Pro."
Thompson agrees: "Besides our passion for inshore fishing, chasing snook and redfish and tarpon back here, Alonzo and I both have something in common; we both rely on Raymarine products."

MULTIFUNCTIONAL MASTERY
Axiom Pro multifunctional displays offer several unique technologies Sotillo uses to his distinct advantage while operating in his shallow-water world. "Whether it's DownVision to look for tarpon in ten feet of water or the detailed charts I use on the flats looking for subtle contours and transitions, all of those things give me have a better approach for catching these fish," he says.
Captain Sotillo chooses to use the Navionics Platinum Plus mapping chip in his Axiom Pro. "They offer the Google Earth overlay, which allows me to get to places that are off normal charts and, most importantly, allows me to get my clients back to the ramp," he says.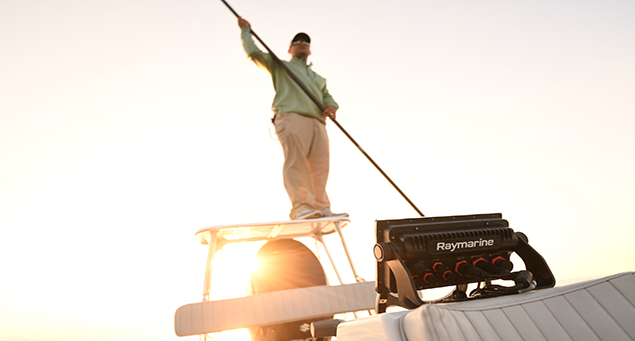 A MATTER OF TRUST
No matter what species he's chasing or with whom he's fishing, Captain Alonzo Sotillo trusts his Axiom Pro to provide the abundance of rapidly accessible technology, heightened situational awareness and practical fishing information he needs to get the job done in a pretty but perilous paradise. "Power it on, touch the screen and go." Let the guides' day off begin.
His fishing buddy agrees, pointing to Axiom Pro's intuitive operation.
"What I love about my Axiom unit is the ease of use," Thompson says. "It's just like using a smartphone. You have very simple menu selection, you can go from split screen to single screen, and you have one transducer that does everything: SideVision, DownVision, RealVision 3D… it does it all."
To learn more about the Raymarine Ambassador program, visit raymarine.com/ambassadors-sponsorship/
For more information on FLIR Maritime, visit flir.com/applications/marine/
For more information on Raymarine, visit raymarine.com