Improving Border Security with FLIR Thermal Imaging
Border security is a primary concern of law enforcement in the Southwest U.S. Local, state and federal agencies work together to protect communities and halt drug smuggling. FLIR handheld thermal imaging cameras are proving to be highly integral to successful interceptions and captures as well as improved officer safety.
Hidalgo County, New Mexico, is home to dramatic Western landscapes, hard-working residents, two ghost towns, and 86 miles of international border that separates it from Mexico. Every year, smugglers attempt to transport thousands of pounds of marijuana across that desert border. Sgt. D.A. Arredondo of the Hidalgo County Sheriff's Department is one of many who work to block those smugglers' efforts, and he uses FLIR technology to help him do it.

"The FLIR unit has dramatically increased border security success," Arredondo says. "The thing is awesome—no other way to put it." Even though he's used the FLIR camera for less than a year, Arredondo asserts that it's responsible for the confiscation of more than 700 pounds of marijuana, with a recent single bust commandeering 189 pounds.
Typical Scenario
Sgt. Arredondo keeps his FLIR camera, tripod, rangefinder and battery charger in his patrol unit, so he's ready to go whenever the U.S. Border Patrol calls for assistance. Eventually, he hopes to obtain more FLIR cameras that the rest of his department can use and is awaiting the grant funds to purchase more units. Until then, he maintains full control over the usage of the FLIR unit. Whether he's called on for assistance by the U.S. Border Patrol or he's observing a portion of the desert on his own, the drill usually goes something like this:
Detect the heat signature of smugglers up to two miles out.
Use a rangefinder to determine GPS coordinates.
Radio coordinates to other units running silent in the desert until he's hemmed the group of smugglers into a gauntlet.
Monitor the group of smugglers when agents go lights on to watch for the telltale drop of the drug load. Since many patrols are conducted in the middle of the night, smugglers will drop their load and flee as far away from it as possible before getting caught. They can deny any smuggling activity in the hopes that their packs won't be found. Alas, with Sgt. Arredondo watching through his FLIR, he's able to provide exact GPS coordinates to the dropped stash.
Sgt. Arredondo and the Hidalgo County Sheriff's Department usually detect smugglers when they're about 30 miles from the international border. They survey a massive expanse of territory, and typical patrols require four to six hours of scanning with the FLIR camera. Both Arredondo and the camera prove resilient though, and neither show signs of slowing down. Compared to how these patrols were carried out prior to obtaining their FLIR camera, officers and agents are much safer and more successful. Before FLIR, foot patrols would wander the desert and hope to surprise a group of smugglers carrying dope, "surprise" being the key and dangerous term.
"The thing is awesome — no other way to put it." – Sgt. D.A. Arredondo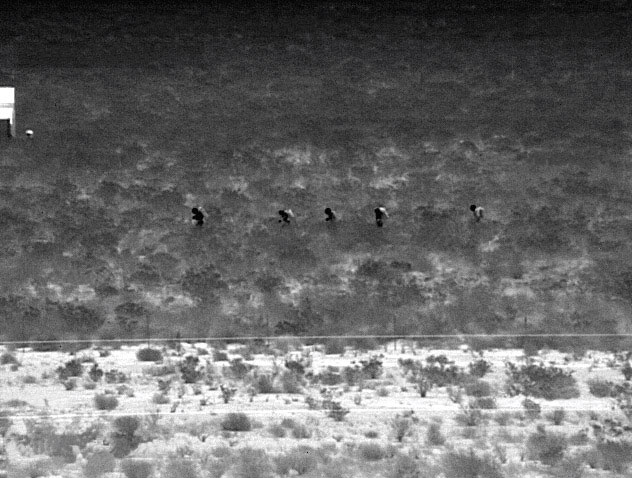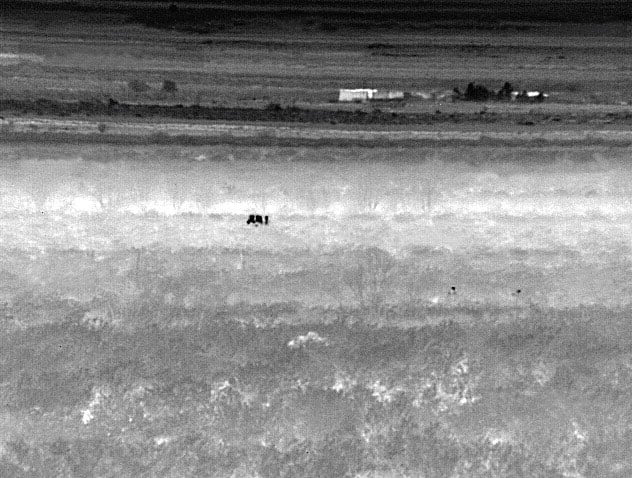 Getting a FLIR for Hildalgo County
As is usually the case in the law enforcement community, Sgt. Arredondo learned of FLIR cameras' capabilities from a fellow law enforcement professional. While driving along the highway, he happened across a deputy from another department standing by the roadside and peering into the desert. After sampling that deputy's camera, Arredondo knew he needed a FLIR of his own.

He applied and won a federal grant through Operation Stonegarden, a fund designated to encourage law enforcement agency cooperation in order to "secure the United States' borders along routes of ingress from international borders to include travel corridors in States bordering Mexico and Canada." Once the funds came through, he purchased his FLIR camera, and then immediately took it into the field. When asked to describe what he could see when he turned it on, Sgt. Arredondo starts and stops a couple of times and then sums it up thusly: "Holy ____, sir, it's an excellent piece of equipment."
Its intuitive interface made it a snap to operate and he quickly discovered other opportunities to use it to protect the citizens of Hidalgo County. The topography of the country is such that whenever a suspect flees, he or she lights out to the desert. There are many places to hide in the desert, especially at night. But once Arredondo pulls his FLIR camera out of his patrol car, it only takes about 30 seconds to find a heat signature, which can't be hidden, even behind desert scrub.