Linking Enzyme Detection with Mobile GC/MS Analysis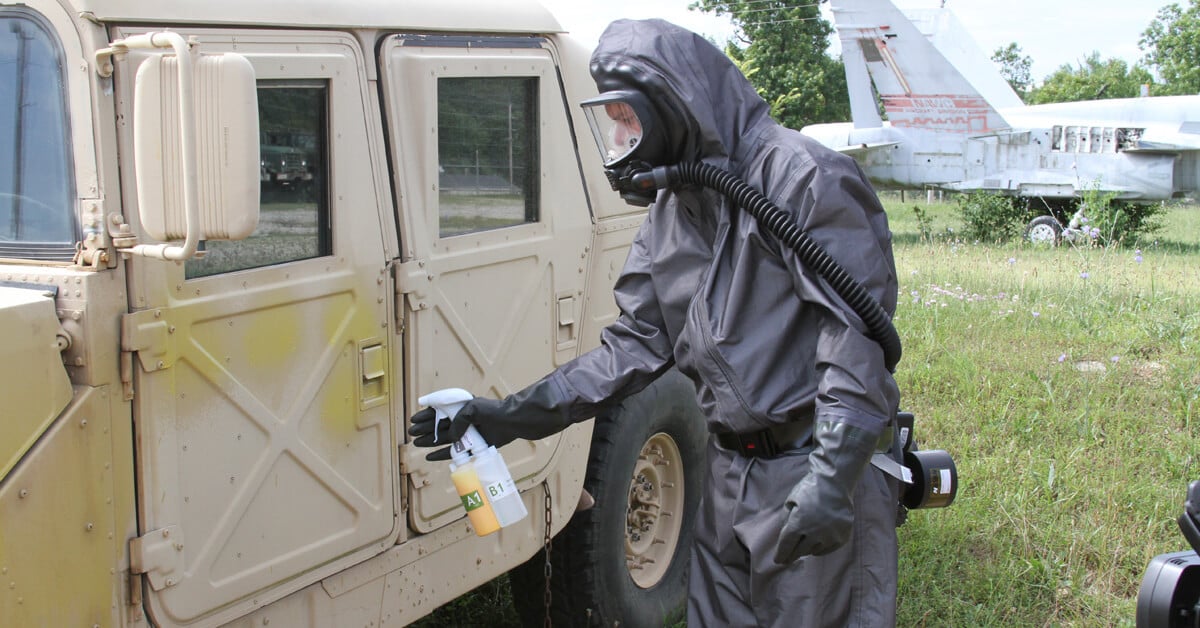 Protecting people and property from the use of Weapons of Mass Destruction (WMD) requires a tiered approach to secure the homeland. The primary mission varies from the needs of the front-line operator to the central command station. From detection and identification to decontamination, each event across the timeline requires a specific set of capabilities to result in an actionable outcome. A tiered approach is needed that takes into account both the type of threat and the capability needed based on the time allotted for an operator to complete their mission.
Linked Technology for Tiered Protection
The FLIR Agentase™ C-Series products combined with the Griffin™ mobile Gas Chromatograph/Mass Spectrometer (GC/MS) provides a total solution for chemical threats. During incident response, C-Series presumptive screening tools provide front line operators with rapid threat alarms at levels no other technology can detect, safeguarding lives. They do not destroy the sample and can even be used to collect a sample. During the recovery phase, additional FLIR sampling tools like the Griffin X-Sorber are used to collect samples in the hot-zone. With little to no sample preparation, the chemical identity is confirmed within minutes via the mobile Griffin GC/MS. The Griffin GC/MS system ensures that the user is armed with confidence – no matter where the action takes them.
Features & Benefits
Agentase C-Series Products:
Reliable screening tools for front line operators
Detects within minutes to provide early warning
Detects at IDLH (Immediately Dangerous to Life or Health) and myosis levels
Alarms at low levels other sensors cannot detect
No special skills required to operate
Training completed in less than an hour FLIR Agentase C2 Chemical Agent Detection
Griffin GC/MS Products:
Built to withstand the harshest environments and tested to MIL-STD-810G
Quick and simple to use
Interchangeable sampling tools require little to no sample preparation
Accurate, high performing chemical library
Unmatched flexibility, transitions into new roles as missions change
Simple routine maintenance maximizes system uptime
Affordable chemical analysis solution with extremely low cost-per-sample
Detection with Enzyme-Based Sensors
The Agentase C-Series sensors utilize enzyme based technology to produce colorimetric detection results (Figure 1). They enable the user to detect chemical warfare agent (CWA) and/or Toxic Industrial Chemical (TIC) contamination on surfaces or in air directly in the hot-zone. The enzyme based sensing technology offers an extremely low false positive rate and offers single microgram-level sensitivity on surfaces.

Forensic Analysis via Mobile GC/MS
GC/MS is the laboratory gold standard for chemical analysis. It is a highly selective and specific technology that can differentiate between similar chemical structures in a single, complex sample mixture. This aids in quick and accurate chemical identification. Chemical emergencies can happen anywhere. Griffin GC/MS systems deliver lab quality forensic analysis in a field-ready package that anyone can use.
Incident Response
It is difficult to detect CWAs prior to use. Early warning is mission-critical. Security personnel need to be alerted within the first few minutes of something happening. The ability to detect trace levels of hazards quickly can protect people from low-level, long-term exposure and save lives. It is imperative that the first indicators do not result in false alarms and cause unnecessary panic. These initial presumptive results typically drive a confirmatory measurement that focuses on making sure that a real event has occurred prior to taking high regret actions.
First on-scene operators employ the Agentase™ C1 chemical agent sensor to rapidly detect class-specific agent contamination on a variety of surfaces after a suspected attack. Operators conduct surface, solid and liquid interrogation for the presence of nerve (G&V series), blood (AC) and blister (HD) agents, acids, bases, aldehydes and oxidizers (Figure 2). The sensors do not destroy the sample and can be saved for eventual forensic analysis via GC/MS. Detection occurs within five minutes and the results are easy to read. This presumptive screening tool offers the speed and accuracy required for incident response missions.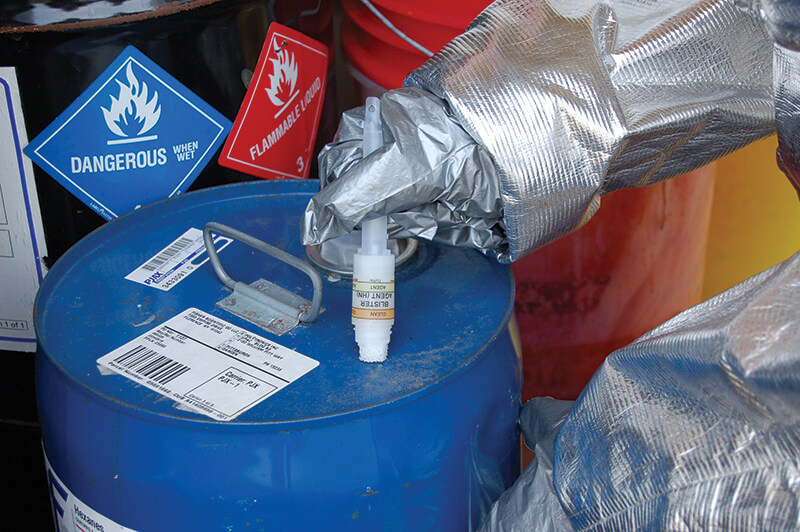 During the recovery phase, forensic analysis is often needed to positively identify the threat used in the attack. The Griffin GC/MS system is most often deployed in the cold-zone in a temporary tent structure, deployable lab or other vehicle (Figure 3). The system is provided with the Griffin X-Sorber, a handheld vapor sampler for use in the hot-zone (Figure 4). Front line operators collect a sample after positive detection from the Agentase C1. The X-Sorber moves through the decon line and, without any sample preparation, the operator plugs it into to the Griffin GC/MS for automated desorption and analysis. Within minutes, the operator receives a red or green alarm with confirmatory identification of the chemical agent used in an attack. This on-scene actionable intelligence arms the operator and their command center with confidence.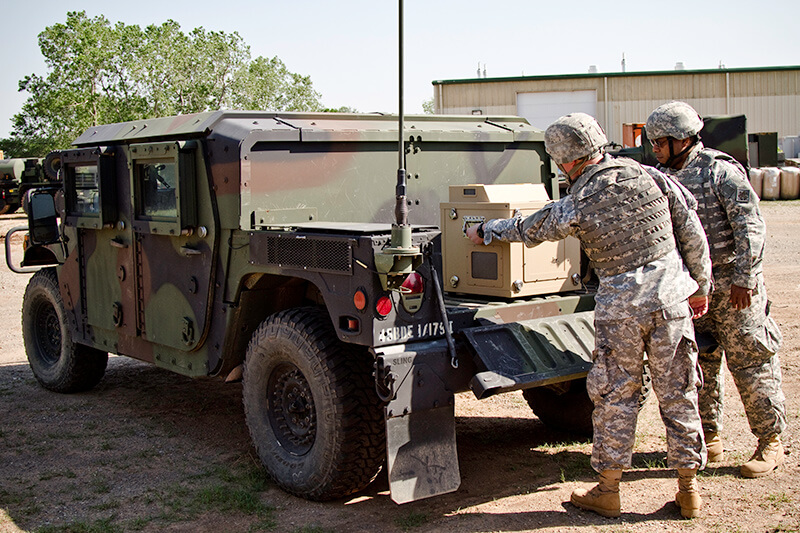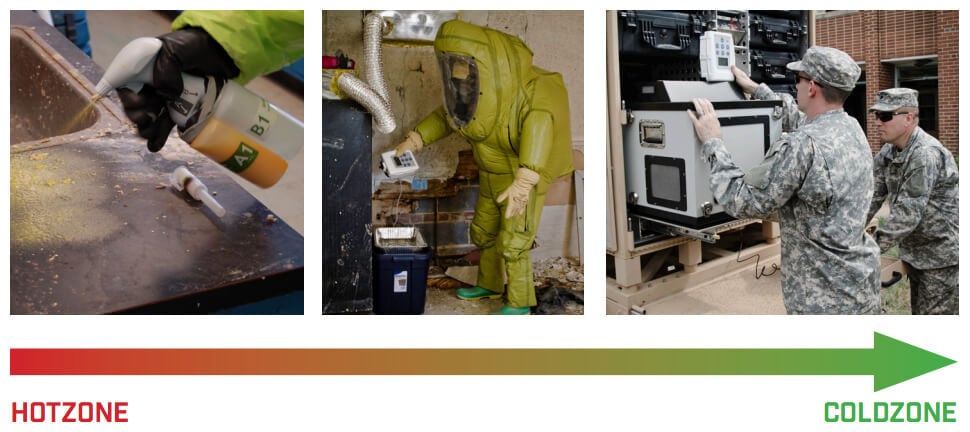 Clean Up
After an attack has been confirmed, the mission focuses on effective response measures. Operations such as contamination mapping (both people and property), treatment of casualties and expeditious decontamination are swiftly undertaken to reduce potential loss of life. Providing for an understanding of where the threat actually went is a difficult operation, but is absolutely imperative in providing for an effective response.
Decontamination efforts can be costly when the specific areas of contamination are hard to locate on a surface. Out of an abundance of caution, users must apply decontaminant where it is not needed. The Agentase C2 is sprayed directly onto a surface to reveal specific CWA contamination, specifically nerve agents (G- & V-series) and sulfur mustard (HD). Within five minutes, the product application alerts the operator when an area is found that has been exposed to chemical contamination or is in need of further decontamination (Figure 5). Agentase C2 enables users to focus their application and reduce the amount of decontaminant and water used, decreasing costs by three to five-fold.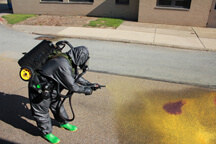 ArtilThe sample preparation after a positive detection by Agentase C-Series products is very simple (Figure 6). After the threat agent has been located, the operator uses a swab to touch the contaminated area. This swab is diluted in an organic solvent. A standard liquid syringe is used to extract a small amount from the diluted sample and is injected directly into the Griffin GC/MS for analysis and rapid confirmation.
Summary
Across the timeline, security personnel, first responders, emergency managers and military officers need the right tools for the job. Lab-quality, field-proven capabilities are needed from detection to decon and everything in between. With use of the Agentase C-Series products and the mobile Griffin GC/MS, operators go from detection to confirmation in less than 30 minutes. The Agentase C-Series arms front-line operators with fast, presumptive detection before human harm or loss of life can occur. Confirmatory identification offered by the Griffin GC/MS helps facilitate appropriate decontamination response. The ability to perform on-site chemical analysis eliminates the expense of shipping unwanted samples and instead allows you to ship only the evidence needed for chain of custody. The implementation of a systems-based approach will instill confidence no matter where the mission is.