Troubleshooting Made Easy

@Model.PrimaryHeadlineSize>
Complete Thermal Camera Systems to Meet Electronics Testing Needs
As demand for electronic systems and components increases to support global green energy and digitalization initiatives, so does the need for efficient design and verification testing.
Thermal imaging is critical to this process, providing accurate temperature information to troubleshoot potential issues, optimize thermal efficiencies, and even identify counterfeit components.
FLIR A6700-series cameras, with their refined, 15 µm pixel pitch detector, produce remarkably crisp thermal imagery.
When paired with the appropriate close-up or microscope lenses, they are the ideal solution for a wide variety of electronics design and testing applications.
See our low-cost A6700 MWIR packages below, then contact an expert to get started.

FLIR A6701 MWIR Package with Macro Lens & Stand
Combining the 640 × 512 (327,680) pixel FLIR A6701 with a MWIR macro lens and stand gives you a flexible system for a wide range of electronic assemblies and sub-components while providing the small spatial resolutions necessary to accurately measure temperatures on individual surface mount components. Though the lens can focus to infinity, at its minimum working distance of 110 millimeters it can provide a total 21.2 mm × 16.9 mm overall field of view with a per pixel spatial resolution of 33 µm.
FLIR A6701 MIWR Package with 1X Microscope Lens & Stand
A 1X MWIR microscope lens, when combined with the FLIR A6701 MWIR camera, can help researchers and engineers improve electrical efficiency by finding small thermal anomalies in integrated circuits or measuring the heat being emitted from individual components. The microscope stand stabilizes the entire system to enable clear images covering a 9.6 mm x 7.68 mm target area with a spatial resolution of 15 µm/pixel.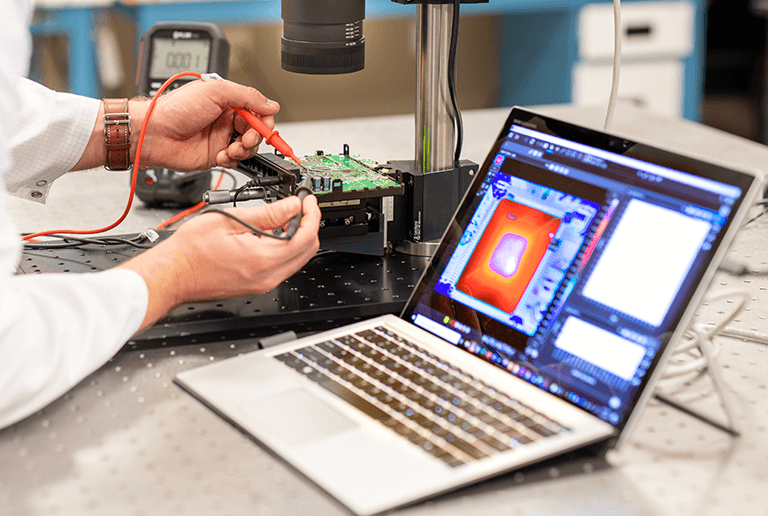 Maximize your analysis and sharing of thermal data with FLIR Research Studio
Both A6701 MWIR packages include FLIR Research Studio Professional Edition.
This powerful software allows you to set separate emissivity values for each region of interest and calculate the emissivity value of components based on a known temperature for both live and recorded thermal data insures decisions are based on accurate temperature information.
Multi-language and multi-platform support (Windows, MacOS, Linux) improves collaboration between team members, increases testing efficiency, and helps reduce the potential for misinterpretation due to poor translations.