Existing Thermal Camera Technology Can Help Address Stricter AEB Testing Standards Coming This Year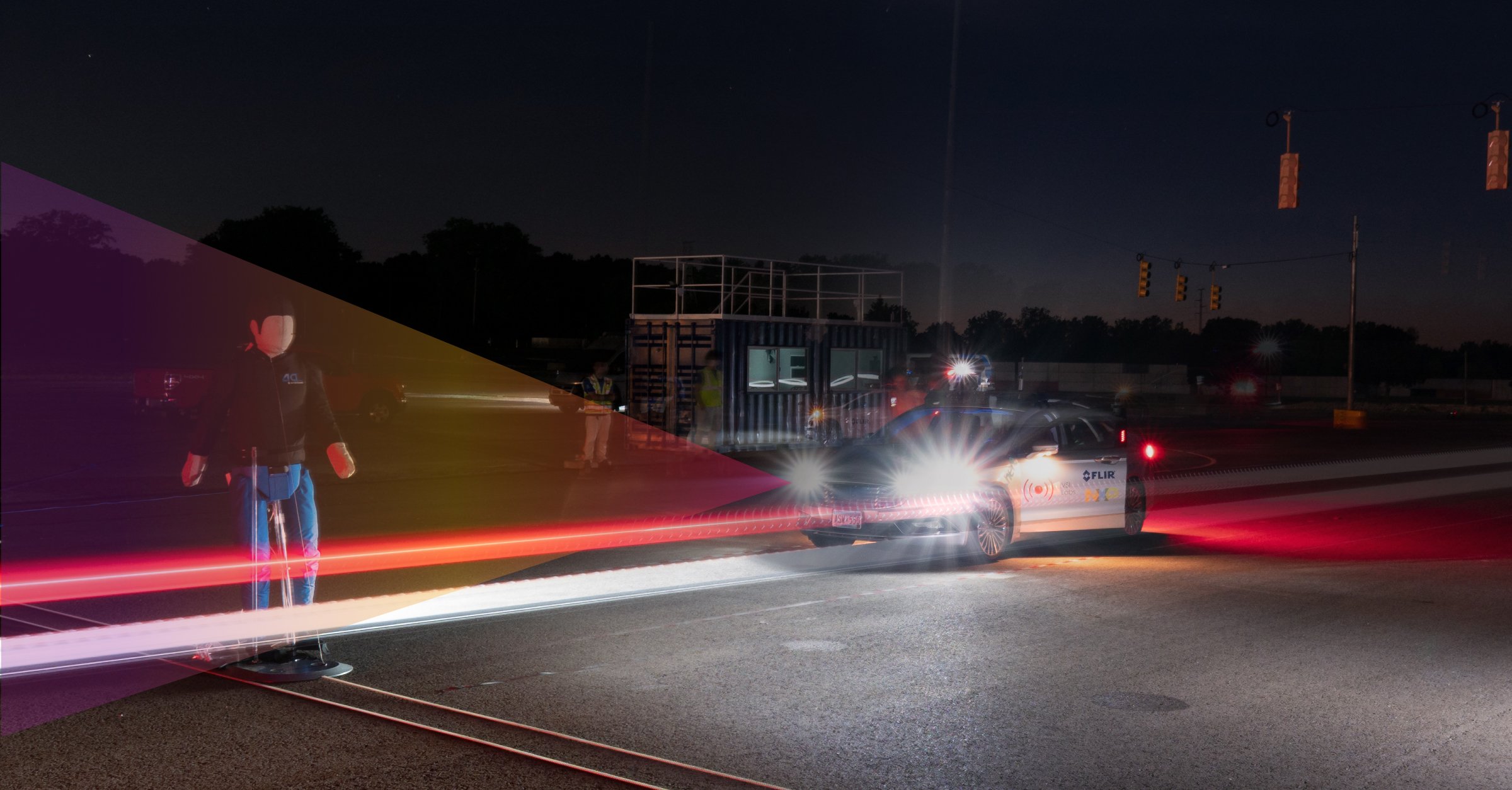 IIHS is Introducing New Nighttime Testing Requirements for the Top Safety Pick+ designation. Thermal Cameras Can Help Automakers Achieve Top Ratings.
Recently conducted testing by IIHS announced on February 3rd has again shown the limitations of existing Automatic emergency braking (AEB) systems to detect pedestrians at night, and highlights the need for additional technologies to help prevent collisions.
IIHS found that despite continued improvements in AEB technology, existing systems on passenger vehicles still fail in many common roadway scenarios. The organization wrote: "AEB systems that can detect pedestrians are preventing pedestrian crashes — but only in the daytime or on well-lit roads."
Going further, IIHS noted in its statement that in unlit areas at nighttime, "there was no difference in the odds of a nighttime pedestrian crash for vehicles with and without the crash avoidance technology."
Heightening the stakes, the annual Governors Highway Association report found pedestrian deaths in 2020 increased by 21 percent from the previous year. This was the largest annual increase since such data collection began in the mid-1970s. There are numerous factors that have contributed to the rise of pedestrian deaths, but despite ongoing improvement in pedestrian detection and collision avoidance systems, more work must be done.
Thermal Imaging: The Missing Link to Improving AEB at Night
Part of that work includes implementing thermal imaging into future crash avoidance systems, particularly at night where nearly three-fourths of pedestrian deaths occur. Thermal technology already exists within nearly 1 million vehicles on the road today, as part of the "night vision" system from tier-one supplier Veoneer. However, those systems only serve as a driver's aide, as they are not part of AEB or other automated collision avoidance systems that can make a marked difference in reducing pedestrian fatalities.
To demonstrate the value of thermal integration within existing AEB technology, Teledyne FLIR went to the American Center for Mobility in Michigan in 2019 to conduct testing of an AEB system developed with VSI Labs. The system combines thermal imaging, visible imaging, and radar (known as RGBT+ radar). Through the testing, Teledyne FLIR found this combination to represent the most effective and affordable mix of sensors available today to greatly improve AEB systems, especially at night and other common conditions including sun glare.
---
Testing demonstrated that the thermal-infused AEB system Teledyne FLIR developed with VSI Labs is significantly more effective than existing radar-and-visible systems, particularly in low visibility
In addition to evaluating a RGBT + radar AEB system as part of the 2019 testing conducted by VSI Labs and Teledyne FLIR, the team went one step further by testing with a heated Euro NCAP Pedestrian Target (EPTa). The primary goal of this inclusion was to better represent humans at night in real-world scenarios in comparison to inanimate objects, furthering how thermal can achieve reduced pedestrian accidents and deaths while potentially reducing false positives.
The testing done by IIHS and other organizations including AAA emphasizes the importance of future AEB systems to be able to operate effectively 24 hours a day on any roadway including no-lux scenarios, meaning that testing is completed in complete darkness to better represent real-world conditions.
New IIHS Tops Safety Pick Standards for 2023
In response, IIHS is now developing a nighttime test, with plans to publish the first official nighttime pedestrian crash prevention ratings later this year. For automakers to achieve the new standard for the 2023 TOP SAFETY PICK+ designation, a vehicle must achieve an "advanced" or "superior" rating for nighttime pedestrian front-end crash prevention. IIHS published a draft of these standards in January 2022, called the "Pedestrian Autonomous Emergency Braking Test Protocol."
To help make our roads safer and to help meet these new standards in future vehicle models, Teledyne FLIR recommends automakers incorporate thermal cameras as part of an AEB sensor system with radar and visible camera technology.
For more information on how thermal technology improves existing AEB, please visit www.flir.com/adas.
To download a whitepaper published by Teledyne FLIR based on the 2020 thermal AEB testing, please visit:http://flir.com/thermalaeb