Test Results: AEB Fused with Thermal Can Save Lives

---
At the end of 2019, FLIR and VSI joined forces to advance the use of thermal cameras for the development of a more reliable automatic emergency braking (AEB) system in all conditions.
In July 2020, we returned to the track at the American Center for Mobility (ACM) to test a fused AEB system that included a thermal camera, radar, visible camera, and FLIR CNN. The tests were conducted alongside four commercially available vehicles in challenging conditions.
The FLIR/VSI Research Vehicle
Consistently Stopped Safely
in Challenging Conditions
The test results show, the AEB system with the added thermal camera performed significantly better than existing commercial AEB systems in the supplemental gap testing.
The thermal-enhanced AEB system improves the AEB functionality in the most dangerous situations, including low-light conditions, darkness, and when exposed to blinding conditions such as emerging from a dark tunnel into bright light. Additional positive detection gap tests scenarios are under consideration including headlight glare and more. Preliminary false positive testing is in process and is will continue in 2021.
Developing AEB systems with thermal longwave infrared camera technology will reduce human injuries and deaths significantly. FLIR is currently working with several top AV developers, auto manufacturers and Tier 1 suppliers to continue the advancement of thermal cameras in ADAS and AV system design with the goal of improved safety.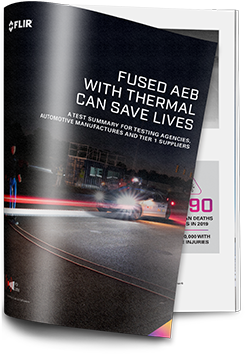 Download the Executive Summary