FLIR Reveals Raymarine Axiom® Innovations at the Miami Boat Show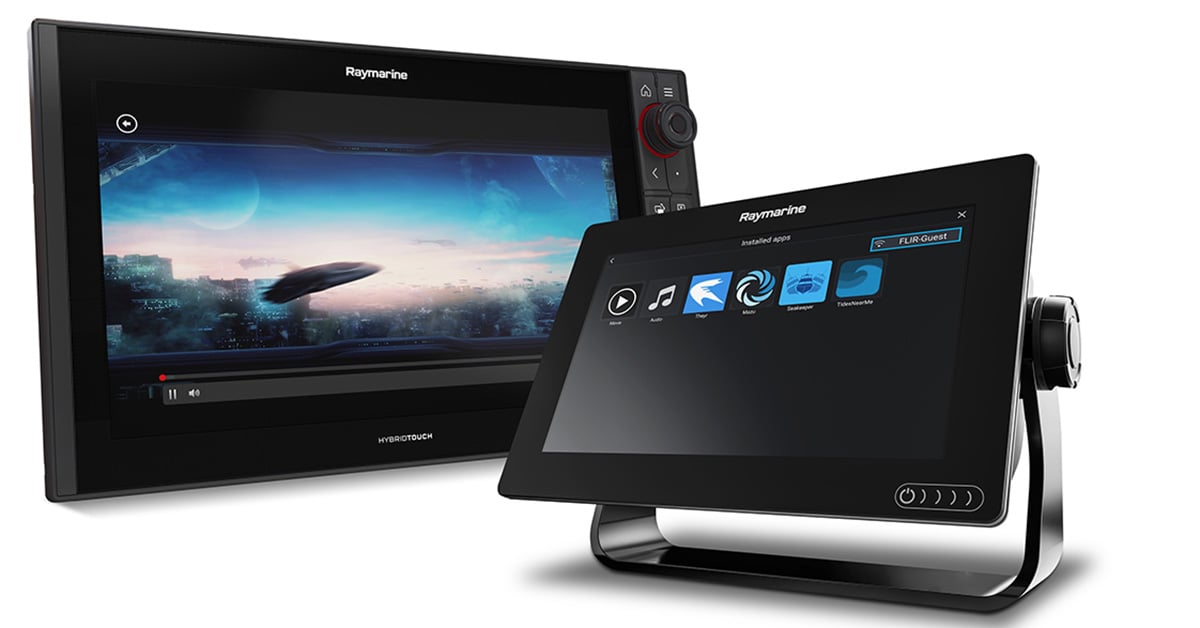 Marine Electronics Leader Showcases LightHouse Apps, Axiom UAV Integration, and new Raymarine LINK Mobile App
WILSONVILLE, OR – February 15, 2018 – FLIR Systems, Inc. (NASDAQ: FLIR) announced today a slate of new technologies launching from their award-winning, Raymarine-branded Axiom® line of multifunction navigation displays (MFD). Visitors to the FLIR and Raymarine booth at the Miami International Boat Show this week are invited to see Axiom's LightHouse™ Apps, the Raymarine LINK™ mobile app, and Axiom integration for UAVs.
LightHouse Apps
Available in the forthcoming LightHouse 3, LightHouse Apps brings select Android-compatible mobile apps and third-party marine apps to Raymarine's family of Axiom MFDs. With LightHouse Apps, Raymarine users can use Axiom to stream onboard entertainment from popular movie and music streaming services. LightHouse Apps also brings access to the Theyr GRIB global weather forecast and tide apps. With the launch of LightHouse Apps, Raymarine is making it easy for marine manufactures, app developers and technology providers to integrate with Axiom and the LightHouse 3 OS. The first LightHouse Apps on display at the Boat Show are the Seakeeper gyro stabilizer control and mazu mSeries global satellite communications. The mazu mSeries app allows users to send messages, receive weather forecasts, and monitor their vessel from anywhere in the world.
Raymarine LINK™
The new Raymarine LINK mobile platform for iOS and Android allows Raymarine users to plan, sync, and control their Axiom navigation display from their mobile device. For example, Raymarine LINK allows users to plan waypoints and routes while away from the boat. Once onboard, LINK synchronizes waypoint and route plans automatically. Raymarine users can also access trip logs, screen shots, and video recordings from the Raymarine LINK mobile app. Review trip logs at home and share trips, screenshots and video captures with friends. Raymarine LINK also provides backup for all MFD settings and keeps your Raymarine gear up-to-date with the latest feature and software updates.
Axiom UAV Integration
This marine electronics industry first allows boaters to connect to their UAV, then control and view images directly from the Axiom display. This patent pending technology now brings a hands-free, aerial view to the water, ushering in a new era of UAV control and video possibilities for anglers and boaters. Currently compatible with DJI Spark and Mavic UAV drones, features include single button launch/track/record functions, GPS link for various "follow" modes, and real-time video streaming on the Axiom MFD.
LightHouse Apps, the Raymarine LINK mobile app, and Axiom UAV integration will be available in the spring of 2018
See the latest Axiom innovations on display at booth C707, tent C and the Raymarine demo boat at slip 877 during the Miami International Boat Show.