How do I configure my FLIR AX8 to send an e-mail every time an alarm goes off if I don't have access to a local E-mail server?
There are some limitations to the FLIR AX8 e-mail feature: for example, the e-mail server has to be on the same subnet as the camera is located on. This could be problematic for some companies and might require assistance from the IT department.
The first thing to do is create an alarm based on a measurement function in the FLIR AX8. To do this, log in to the camera with the admin credentials, and add a spot for example. Then create an alarm by pressing the bell located to the right of the spot, as in the image below.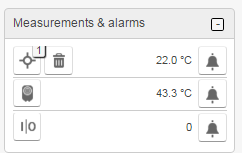 Then, configure the alarm similarly to the image below. It is important to check the e-mail box.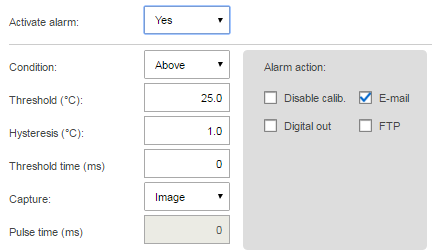 We now need to configure the e-mail server. Your IT department should be able to assist with this, or you could set up an e-mail server yourself. Free e-mail server software is available: for example, hMailServer—download the latest version from here and install it on the computer that will act as a server. Note: The computer used as the server must be running for the FLIR AX8 e-mail feature to work.
A short guide on how to set up your e-mail server can be found here. Note that this set-up is for a local server only, i.e., e-mails can only be sent and received locally. Once the e-mail server has been set up, a user who wants to receive e-mails must have an e-mail client. Free e-mail clients are available such as Opera Mail, which can be downloaded from here. Other e-mail clients can be found here.
When configuring the e-mail client, the IP address of the e-mail server will the same as the IP address of the computer running the e-mail server.
To configure the FLIR AX8 to send an e-mail to an e-mail address in your hMailServer, go to the FLIR AX8 web interface and enter the Settings tab, scroll down to Alarm recipients, then enter your e-mail server settings.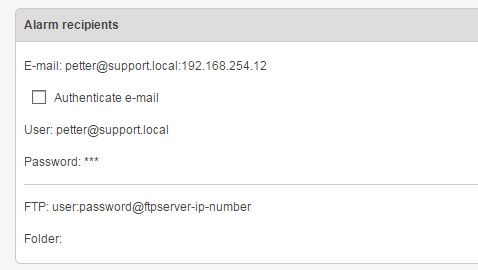 In the image above, my e-mail server has the IP address 192.168.254.12, and my e-mail address is petter@support.local.
Everything should now be set up, and once the alarm goes off, an e-mail will be sent to the recipient configured in the web interface. The e-mail sent when an alarm is raised should resemble that below.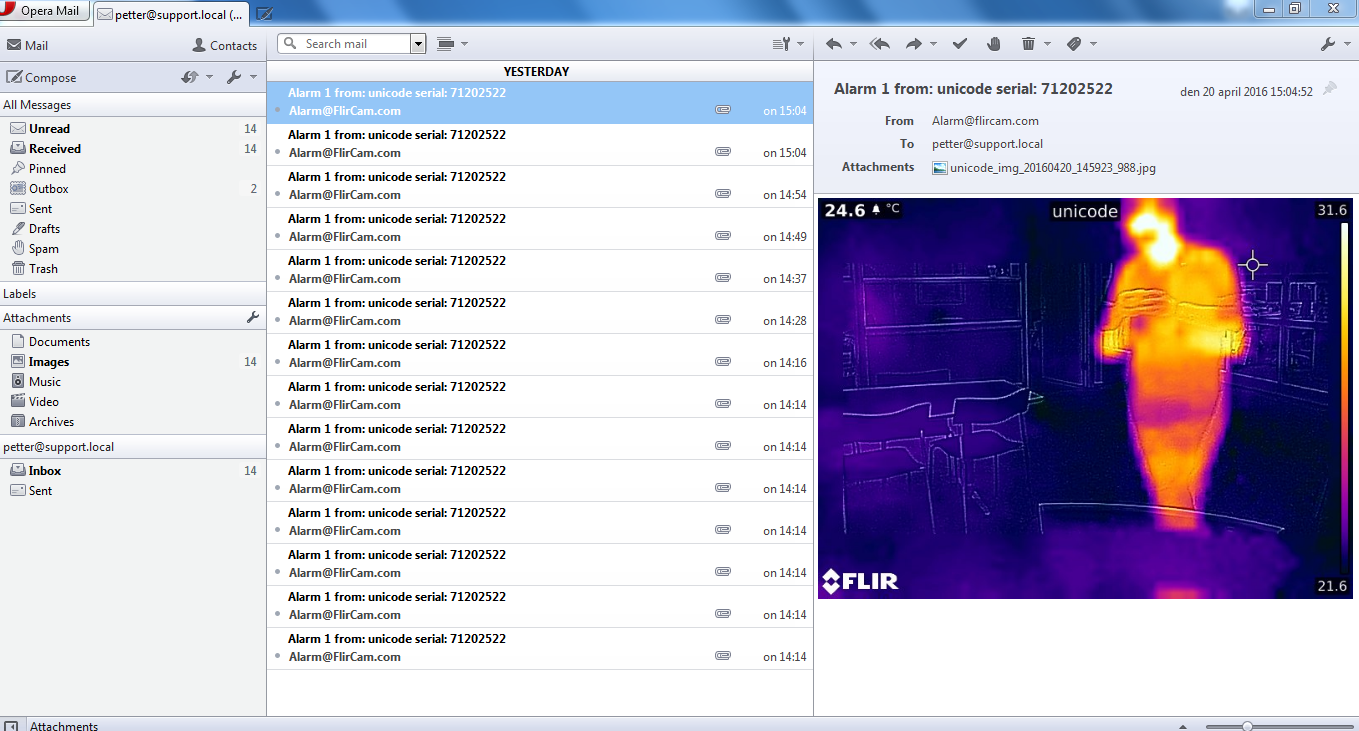 If everything has been configured as in this guide, e-mails will not be accessable from outside the local network. To allow the e-mail server access to the internet, further configuration is needed and a domain name needs to be bought/provided. Read more at the hMailServer web site.