No Excuse for Firefighter Disorientation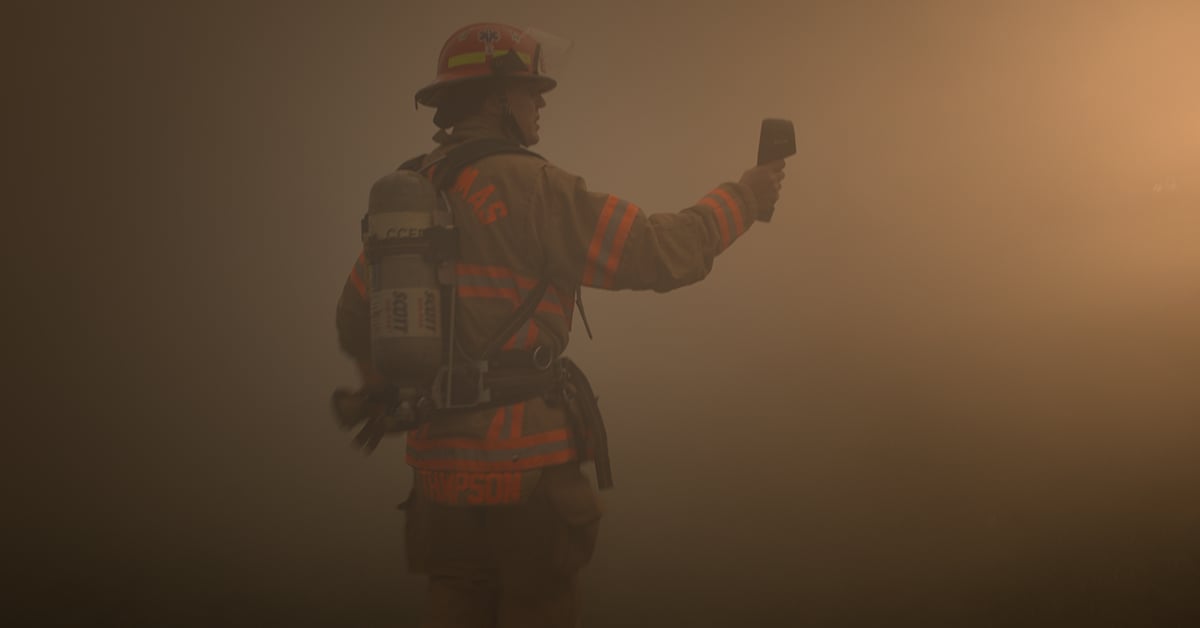 Firefighters dedicate years to better understanding fire behavior. No matter the level of training, experience, or skill, firefighters still face circumstances beyond their control that can dramatically alter a fire's behavior. With modern fires progressing faster than ever, unexpected changes on the interior can lead to dangerous moments of disorientation. Equipping each firefighter with a thermal imaging camera (TIC) could be the difference between getting into serious trouble and making it out alive.
Today's structural fires are changing due to the use of synthetic materials in buildings, furniture, and appliances. Beyond quickly reaching flashover, the UL Firefighter Safety Research Institute confirmed in 2007 that fires involving synthetic materials produce more hazardous smoke than their natural counterparts. The thick, black smoke from today's structures not only exposes victims and firefighters to more asphyxiants, irritants, and airborne carcinogens but greatly reduces visibility.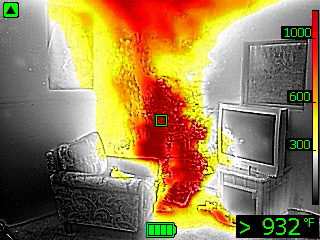 Synthetic materials and open floor plans cause modern fires to flashover much more quickly.
Visibility is key when evacuation becomes necessary. Captain William R. Mora of the San Antonio Fire Department conducted a firefighter disorientation study, evaluating 17 incidents that led to 23 fatalities of firefighters between 1979 and 2001. In each reported incident, firefighters conducting an aggressive interior attack experienced zero-visibility smoke conditions for over 15 minutes. As conditions worsened, members of the company got separated from the handline or encountered tangles, becoming disoriented. If company integrity is compromised, firefighters become open to potentially fatal events that are beyond their control. Depleted air supply, falling debris, and sudden flashover or backdraft are all very real threats to a disoriented firefighter. Having a TIC on hand can make a life-saving difference when getting out becomes the only priority.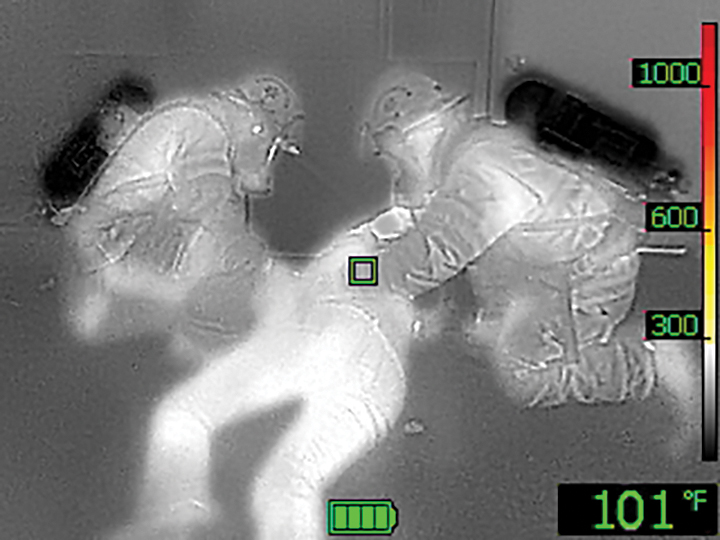 Thermal cameras see through smoke to quickly locate victims and other firefighters
The fire service uses thermal imaging for a growing number of applications varying in complexity. From quickly finding a downed victim during search and rescue to making informed tactical decisions, the introduction of TICs helped firefighters become more efficient and save even more lives. For all the refined uses of thermal, its most simple benefit remains the most important—TICs see through smoke. Powering on a TIC can instantly create a window through heavy smoke conditions, allowing firefighters on the interior to see landmarks, lines, and crew members. With the press of a button, the handline can be seen running across the floor and a visible SCBA tank restores company integrity. What may have been a perilous situation suddenly becomes manageable.
You don't share your boots.
You don't take turns with ONE SCBA mask.
A TIC for every firefighter is now a reality.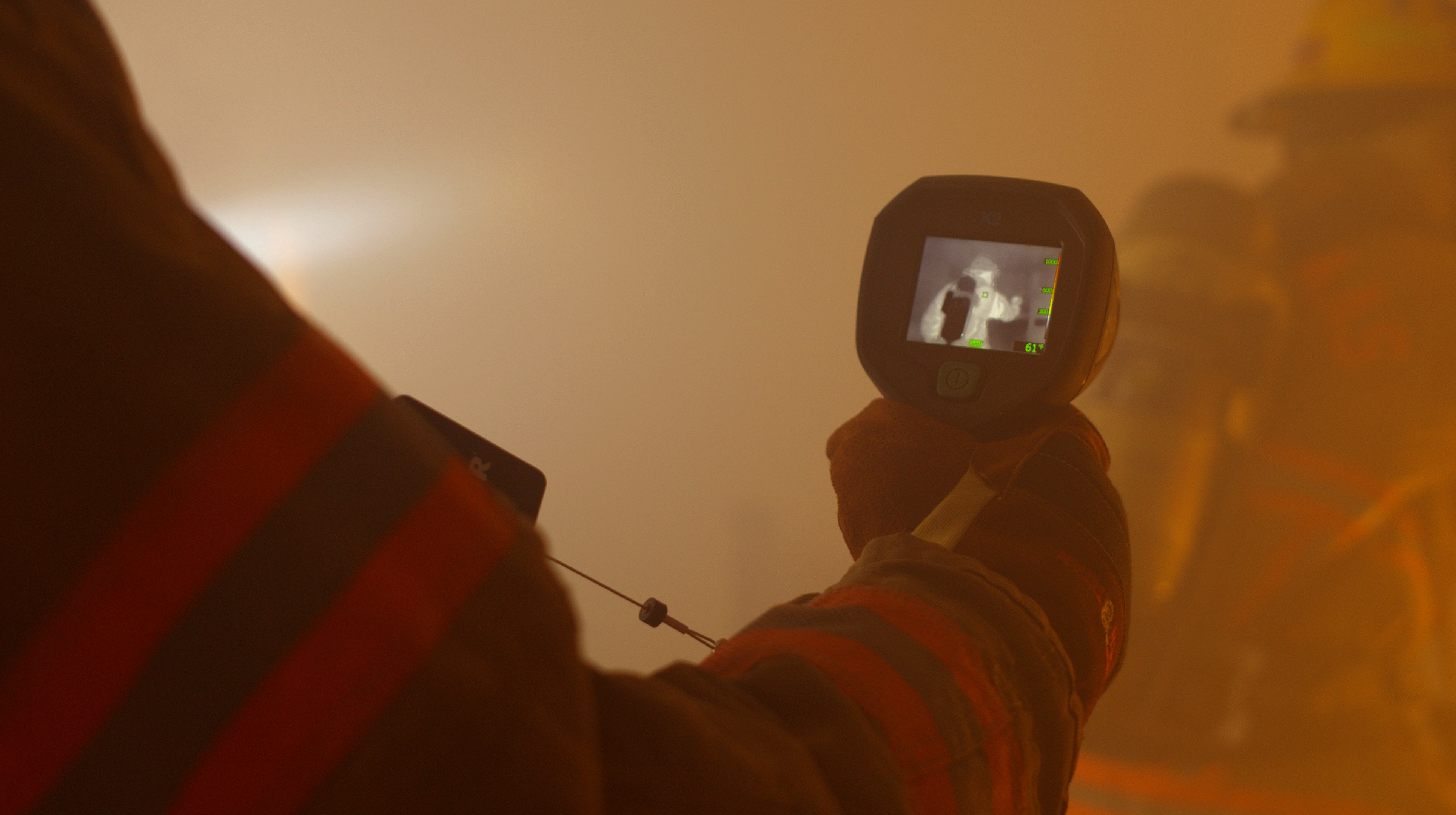 ---
Historically, equipping each firefighter with a TIC would have been unrealistic. The technology was expensive, and departments would have been fortunate to have a single imager, much less a full set. Beyond cost, early TICs were bulky and impractical to always carry on the interior. Fortunately, innovations in thermal imaging led to the availability of cost-effective TICs. Compact imagers, such as the FLIR K2, are designed to make thermal imaging readily available to anyone in the fire service. While it's still important to have high-performance TICs available for tactical decision-making, the K2's ruggedness and imaging capability make it possible to outfit each member of the crew with reliable thermal.
Fire departments do everything in their power to provide each company with tools and turnout gear that make the job safer and more efficient. For example, the development of modern SCBA and personal protective equipment (PPE) has allowed firefighters to save countless lives on the interior— as has the introduction of thermal imaging. Firefighters aren't expected to share their gloves or boots, and they don't take turns with a single SCBA mask. This gear is necessary and life-saving, but it can't guarantee protection when evacuation is the only option. Today's fires cause disorientation, and the ability to see in zero-visibility conditions is no longer a selective option. It's time to get a TIC in every firefighter's hands.