C-UAS : Addressing the Drone Security Threat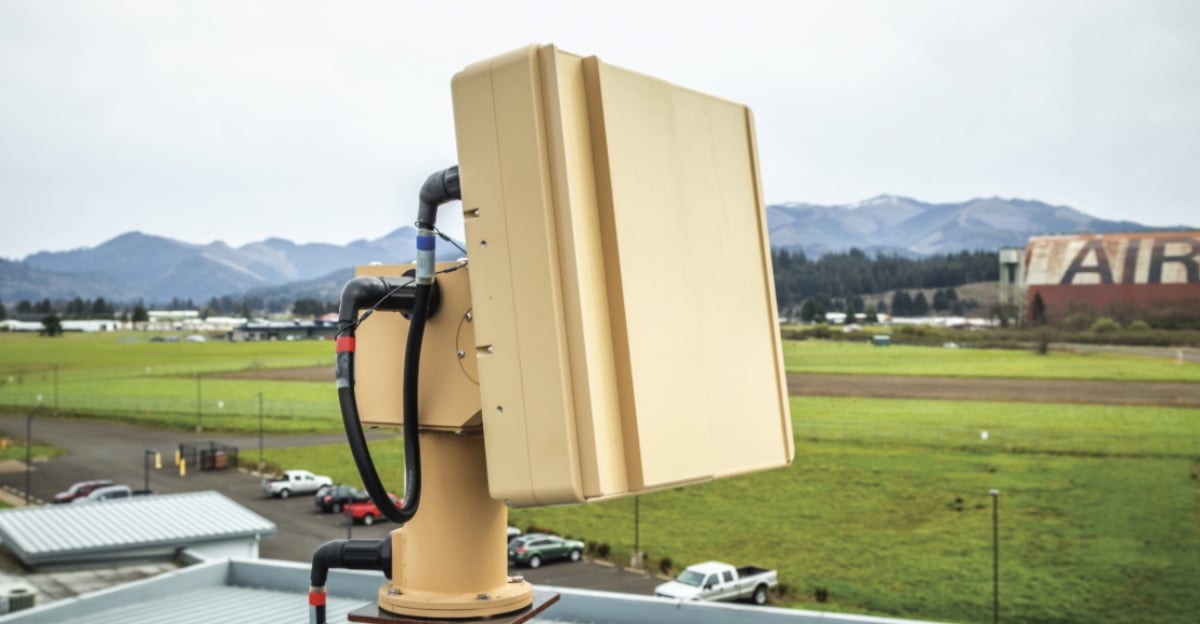 In the security sphere, the explosive growth in unmanned systems is prompting concerns that drones (UAS) may pose a threat to both civilian and military entities. Considering the UAS market size is predicted to swell from $4.4 billion in 2018 to about $63.6 billion by 2025—it's time that the Counter-UAS (C-UAS) market follows suit.
To address these concerns, Teledyne FLIR has brought together the best in surveillance—specialized radars and long-range cameras—and paired them with complementary 3rd party RF detection systems and effectors in an integrated platform (i.e. Cameleon) to offer security partners a uniquely optimized, multi-layered and 24/7 operational, counter-drone solution.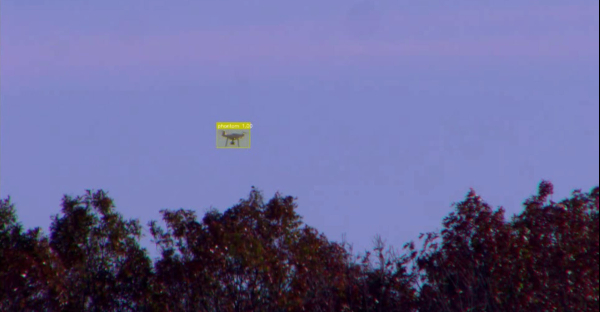 Built to detect all types of intrusion
Teledyne FLIR radar systems are built to detect any type of intrusion, delivering extended performance comparing to other solutions. When placed in a single location and paired with other system sensors, Teledyne FLIR radar systems are able to detect everything from pre-programmed or customized drones to parachutes and small aircrafts. When integrated with 3rd party integration platforms, these systems reduce infrastructure costs with very low maintenance and no recurrent fees, improving system ROI.
Teledyne FLIR solutions are designed to integrate with 3rd party integration platforms, further bolstering systems outfitted with radars. By combining thermal and visible sensors, EO/IR systems provide a visual verification of the target with advanced video classification and tracking analytics so they can follow the radar tracks and keep the system functional in adverse weather conditions, poor visibility, and even complete darkness. HD thermal sensors provide outstanding details, improving the operator's capability to verify the alert and better support the system's Artificial Intelligence functionality.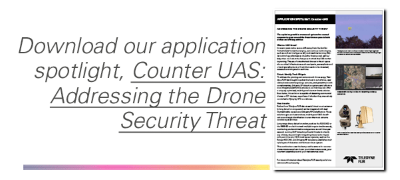 An additional tool many air defense systems are deploying are effectors, which are purpose built to jam and spoof enemy drones. Jamming will disrupt RF and GPS communication links, making enemy drones inoperable, whereas spoofing technologies take control of enemy UAS systems by deceiving GPS signals to the UAS's receiver. Both technologies benefit from combinations of radar and RF detection systems to automatically point them in the right direction. They also serve as an excellent example of the power of layering numerous high-powered technologies.
Bringing these technologies together under one system requires an integration platform specialised for C-UAS deployment in order to incorporate other sensors that were not specifically designed for security applications.
Cameleon provides smooth integration, minimized latency, and is built to be able to handle a critical 3rd dimension. It also provides EO/IR and effector systems with auto tracking capabilities; it even offers the operator advanced mapping capabilities in order to get the most out of fully customized systems.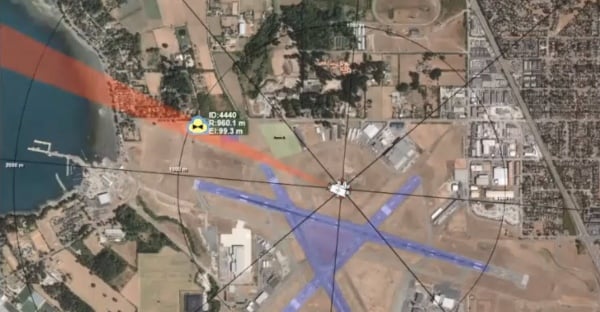 Detection in all weather conditions, day or night
Many C-UAS solutions in the market make use of Radio Frequency (RF) technologies, microphones, and cameras to detect, classify, and identify potential incoming threats. Often, these technologies offer a low-cost, highly mobile solution that can record data to provide forensic evidence for use in eventual prosecution. Some are even able to track incoming threats and provide real-time updates to security personnel. However, these systems often perform poorly in dark, foggy, noisy, and long-range environments.
Teledyne FLIR radar technology, working alongside long-range, multi-sensor EO/IR cameras, mitigate these limitations by taking advantage of the best-in-class technologies Teledyne FLIR has to offer. Not only can radars detect customized and pre-programmed aerial intrusions at extremely long detection ranges, they also integrate with dual thermal/visible sensors, 3rd party RF and effectors, delivering end users a robust multilayered UAS classification and target identification in even the most extreme conditions, 24/7.

BUILT TO TRACK MANY TARGETS SIMULTANEOUSLY
When it comes down to it, investing in C-UAS technologies is a no-brainer. Long range drone detection radars, such as the R20SS-3D or the R8SS-3D, are built to track many targets simultaneously, monitor predetermined coverage areas several times per second, and run 24/7, detecting all ground and aerial threats in virtually any climate, day and night. They are built to present users with low infrastructure costs, recurrent expenditures, and maintenance for a lower total cost of ownership. Integrating these with pan-tilt-zoom, multi-sensor systems such as the Ranger HDC MS, and 3rd party RF detectors establishes multiple layers of detection, forming a robust, legacy system. This combination uses the best possible sensors for counter drone missions, positioning Teledyne FLIR as the market leader in C-UAS worldwide.
To learn more about Teledyne FLIR security products and applications, contact an expert.