3 Ways the FLIR GF77 Series Benefits Gas Inspection Pros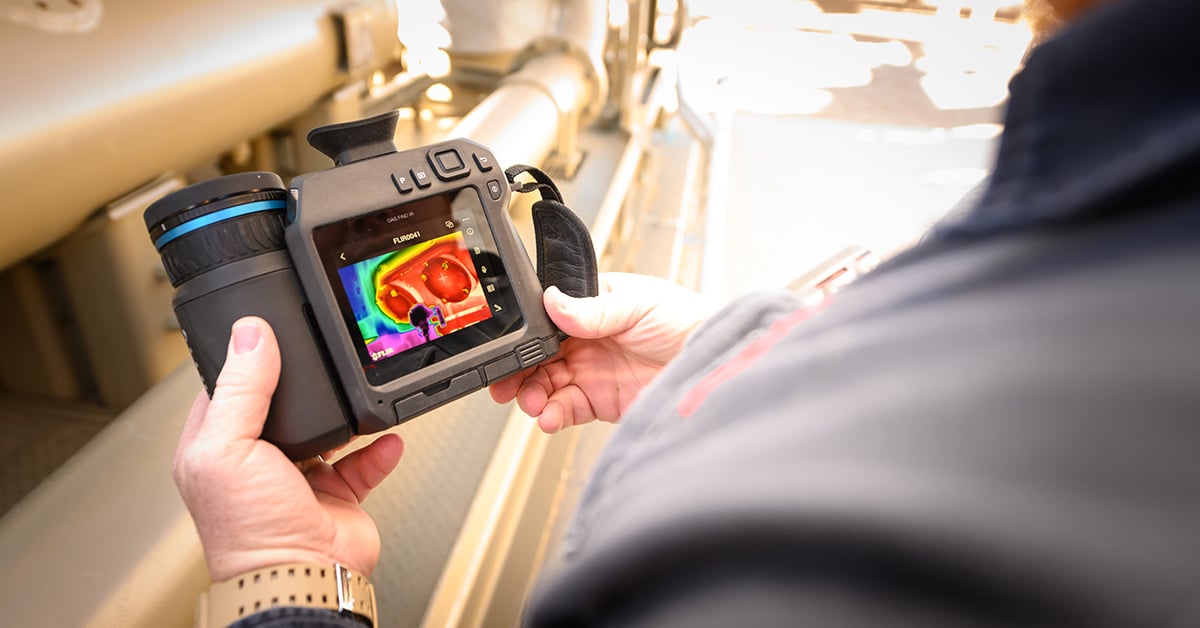 Building on its first uncooled methane-detecting GF77 Gas Find IR camera, FLIR now offers two GF77 lens types for finding a wider variety of gases. With a design based on the ergonomic, award-winning FLIR T-Series camera platform, the FLIR GF77 makes it easy for inspection professionals to get the job done right. This affordable, handheld camera allows inspection professionals to see invisible gas leaks—including methane, sulfur hexafluoride, ammonia, and ethylene—at natural gas power plants, renewable energy production facilities, industrial plants, and other locations along the natural gas supply chain.
Here's why your company needs the FLIR GF77:
More Safety for More Personnel
The uncooled GF77 provides gas detection capabilities at roughly half the price of cooled gas inspection thermal cameras. With the affordable price point lowering the barrier to entry, more professionals can access the technology to help keep them safe, saving your company time and money. The two new lenses—low-range (LR) for visualizing methane, nitrous oxide, sulfur dioxide, R-134a, and R-152a, and high-range (HR) for visualizing sulfur hexafluoride, ammonia, and ethylene—make affordable gas detection available for a wide variety of industrial gases. For customers who already own a GF77 and would like to expand its capabilities, the FLIR service center can calibrate any new lens purchased for that specific device.
Uniquely Engineered
This innovative optical gas imaging camera offers many unique and proven features, such as 1-Touch Level/Span and High Sensitivity Mode. With a quick tap on the screen, 1-Touch Level/Span automatically improves contrast between the gas compound and the background scene, minimizing false detection and strengthening confidence. And for very low-contrast situations, the GF77 offers FLIR-patented High Sensitivity Mode (HSM) to accentuate plume movement.
In addition to detecting gas emissions, the GF77 is also calibrated for IR temperature measurement, so inspectors can use it as part of predictive maintenance programs, such as verifying tank levels and searching for electrical or mechanical issues without the need to change a lens.
Reporting Confidence
When it comes to getting the job done right and building confidence in both your employees and clients, proof is key. With the FLIR GF77, you can organize your findings in the field using the camera's built-in voice annotation, GPS tagging, customizable work folders, and Wi-Fi connections for video streaming or sharing. For top-notch reporting, the Thermal Studio Pro add-on offers an easy final comprehensive report option.
Efficient leak detection and repair with the GF77 will help protect the environment and your company's reputation, while avoiding product losses and ensuring a safer work environment.
To learn more about the FLIR GF77 Gas Find IR Series, please visit www.flir.com/GF77-series.