Low-Cost FLIR ONE® Key to Student's New Anti-Poaching Solution
Thousands of endangered animals are illegally hunted every year in Africa, with rangers often getting caught in the crossfire trying to protect them. Current prevention methods include rangers stationed acting as guards or monitoring camera feeds; unfortunately, this can be prone to human error and can be tedious for those standing watch. Some parks rely on advanced thermal security cameras provided through a joint-project by the World Wildlife Fund and Teledyne FLIR. For others, a low-cost thermal solution could have a large impact on rangers' ability to stop poachers. It's a problem Anika Puri, a 17-year-old from Chappaqua, New York, hopes to address with FLIR ONE camera and an artificial intelligence (AI) solution she developed.
Despite Puri's youth, the MIT freshman has already made impressive strides in the world of STEM. She won the 2022 Peggy Scripps Award for Science Communication at the Regeneron International Science and Engineering Fair, where 1,800 students competed in a range of categories. Her presentation to research experts on her anti-poaching program, ElSa, also garnered her a top award in the competition's earth and environmental sciences category.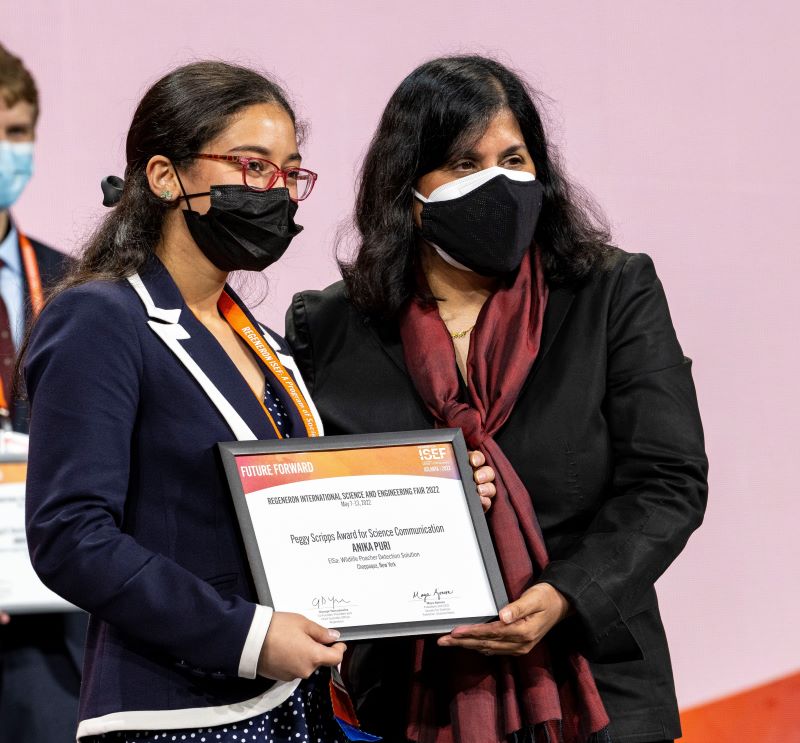 Puri being presented the Peggy Scripps Award
Short for "Elephant Savior", ElSa is a real-time poacher detection solution that analyzes infrared videos taken by a drone. Similar drone-based AI solutions are currently used in some parks but have two disadvantages: low accuracy and high cost—as much as $10,000 per drone. ElSa, on the other hand brings significant improvement over current methods with 91% accuracy rate through the AI alone and only costs around $300. The major cost savings come from the fact that ElSa runs off a simple iPhone 6 receiving thermal video from a FLIR ONE thermal camera attached directly to the phone. With the phone mounted to a drone, ElSa captures aerial footage which it then analyzes in real-time.
An advantage of Puri's AI over systems currently in use is how the technology identifies people and animals on the ground. Current AI systems analyze shapes in the scene to distinguish targets and thus require a certain degree of resolution in their images to maintain accuracy. ElSa works by analyzing the movement pattern of its targets and can achieve accuracy with far fewer pixels, meaning the camera can be lower resolution or further away. Using data collected from Kruger National Park in South Africa, Puri trained ElSa to recognize factors such as movement speed and how the target turns as a way to differentiate between humans and elephants; these are also what allow the program to operate with fewer pixels than current methods. The AI can identify non-moving objects like bushes or trees and then uses those as anchor points to track moving objects. ElSa uses these anchors as references for object speed and direction and allow the system to maintain tracking despite the drone itself being in motion.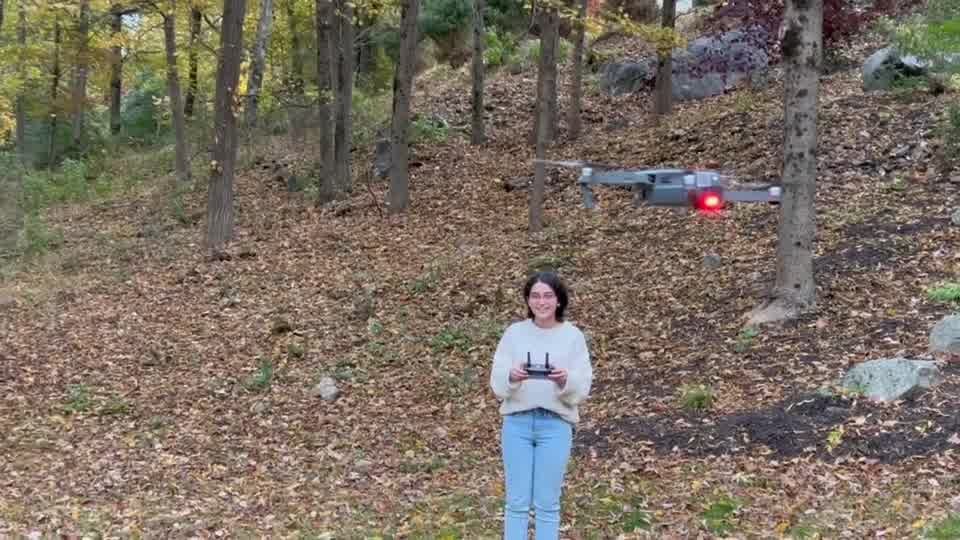 Puri flying a drone for a test build of ElSa.
While ElSa is a positive step toward ending poaching, it also highlights a cost-effective entry point for aspiring AI developers. Loading an AI model onto a smart phone to work with the FLIR ONE allows for easy and affordable testing for those who want to incorporate thermal imaging into their project. Solutions such as the FLIR ONE allow the next generation of computer scientists to get more real-world experience in the field and follow their own projects.
Puri says this project gave her valuable experience on working with AI. "Through this research I was able to explore even further and was able to learn so much about things like 'How do you program a tracking algorithm?' and 'How do you extract data sets?' I feel that throughout this research journey I was able to learn a lot and I feel that was really what inspired me to go even further."
While ElSa shows a wealth of promise it is still in its early stages of development. The program currently differentiates between only humans and elephants alone, but Puri is hoping to add more animals in the future. The young AI developer hopes to visit an African park one day for more rigorous field testing, adding that she would particularly love to test in Kruger National Park. While the current smart phone build is impressive, she also hopes to eventually move to an entirely modular build and have all the components built directly into the drone.
In addition to her work in AI, Anika Puri is committed to her studies at MIT and runs MozAIrt, a non-profit with the goal of bringing more girls and other underrepresented groups into computer science. You can learn more about MozAIrt and their upcoming events on their website.